Big Sky Montana Fly Fishing
Featuring fly fishing, wade fishing, whitewater canyon fishing, hiking, camping, horse riding trips, and guided vacations of every imaginable sort, Big Sky is an ideal location for the outdoor enthusiast. With its fat rivers and astounding views, Big Sky is home to some of the best fishing in the world. For the summer float trip, white water in springs and rivers abounds. For the rugged, mountain experience, fly fishing can be mastered on one of the many rivers around the region.
The Ultimate Fishing Experience
Fishing licenses are cheap and quick and easy to obtain in sporting good stores, hardware stores, and tackle shops found on every corner. You can purchase either a 2-day, 10-day, or season licenses almost anywhere you stop for gas. In addition, rivers, streams, and lakes are often near the highways and State Parks, and boating ramps, and river access can be found on almost every major road and highway along your path.
These qualities make fishing an easily accessible sport in Montana! Coupled with the incredible views found in the Big Sky area of Montana, fishing has become one of the most popular recreations in the region.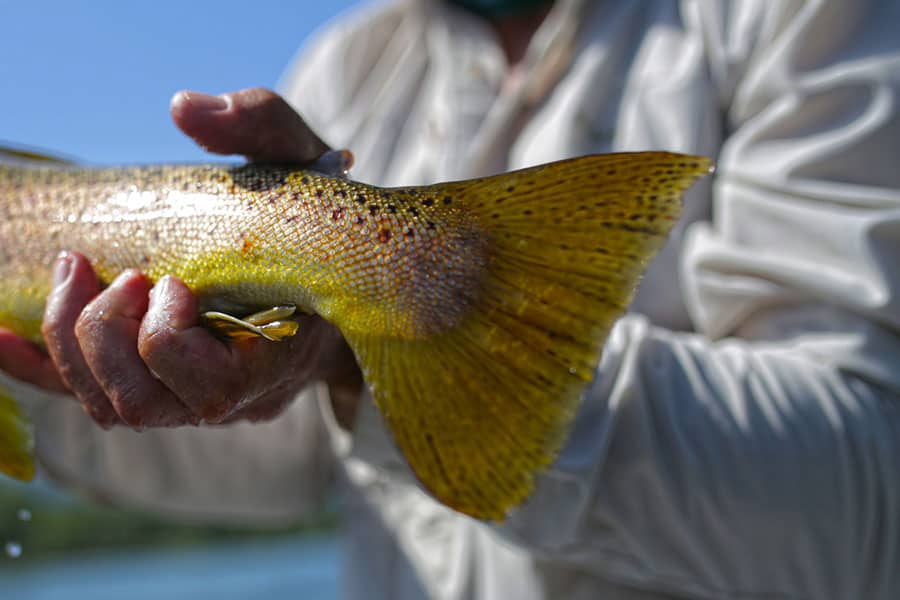 Big Sky Montana Fishing
Big Sky, Montana is aptly named due to its spectacular, sprawling skies full of clouds, rainbows, and sunlit colors. It seems to stretch on forever, filled with soaring bald eagles, migrating geese, and smaller birds of all varieties. With boundaries marked by upwardly thrusting, glorious, snow-capped mountain ranges, Big Sky country offers some of the most breathtaking views ever to be seen in the world.
It's no wonder why thousands of visitors flock to Montana, as the "last, best place" in the world, and only one look at Big Sky gives anyone all the reasons they need to put Montana at the top of their list for vacations. From their incredible ski hills to their fishing lodges and fine restaurants, Big Sky truly has it all.
Anyone who has ever traveled to Montana to sightsee can attest to the fact that almost alongside every highway, boats and fishermen can be seen knee-deep in water, or floating with a guide throughout all areas of the state. From the Clark Fork to Blackfoot and Bitterroot Rivers, to Rock Creek and the Big Hole, Montana is famous for its amazing rivers and streams. People come from all over the world to fish the best fly fishing rivers in Montana.
Fly fishing in Big Sky can only be described as outstanding. Featuring blue-ribbon streams such as the Gallatin, Madison, Yellowstone, Big Hole, and Missouri Rivers running through the region, almost every kind of fly fishing can be experienced. From the expert angler to the novice fisherman, every type of skill level is served on these great waterways.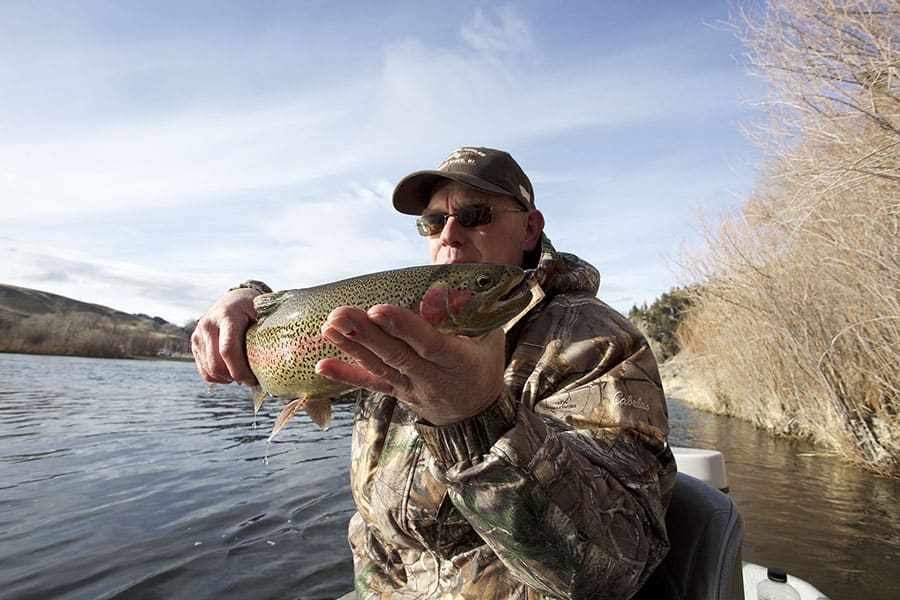 The Best Fly Fishing In Big Sky, MT
The Madison River, flowing from Yellowstone National Park, is perhaps one of the most famous rivers in Montana and offers exceptionally beautiful views and excellent fishing. And The Gallatin River has been hailed as one of the top fly fishing destinations located in the beautiful Gallatin Valley in south-central Montana. The Jefferson River comes in from the west and is overlooked by most anglers. Trout numbers are lower than most Blue Ribbon Rivers but can provide excellent fishing under the right conditions. All three of these rivers join in Three Forks, MT to form the Missouri River. The Missouri River is worth the short three-hour drive from Big Sky when the local rivers are blown out or your just looking for a new river to fish.
Making the Montana dream come true, from its gorgeous views to its pristine waters, Big Sky truly lives up to its name!