Missouri River Fly Fishing
The Missouri River fly fishing is considered to be a treasure trove trophy trout fishery worldwide. Try saying that ten times fast! It is famous for its monster two foot long browns and its super hot high flying rainbows. The most famous part of the Missouri River below Holter Dam with its large tailwater and consistent flows, making the perfect environment for trout to grow and thrive. Prolific bug life and abundant hatches make it some of the finest dry fly fishing in the country. It's no wonder why people come from all over the globe annually to fish the Missouri River. Montana Fishing Guides is your guide for some of the best Missouri River Montana fly fishing!
The Ultimate Fishing Experience
Formed by the waters of the Jefferson, Madison, and Gallatin Rivers, this huge body of water provides plenty of challenges for the beginner and plenty of thrills for the seasoned angler. Below the Holter Dam to the city of Cascade, the Missouri River boasts a 40-mile stretch, which is home to 5,500 – 3,500 fresh fish per mile. While this may not be the most isolated spot for the angler craving solitude, the large populations of rainbow and brown trout make it a destination hotspot for avid fishermen. Featuring numerous and easy public access points all along the river, you are sure to find lots of places to put in and even more fish to pull out of this stellar fishing river.
Flowing through gorgeous valleys and pastures, this pristine river is traced by views that go on forever and dry fly banks that dreams are made of. Lined with cottonwood and Russian Olive trees and rolling fields of green, this picturesque river feeds many a fly fishers' dreams. Because of the dynamic areas of the river, and myriad conditions during spring, runoff and peak seasons, this river offers every style of angler an experience of a lifetime.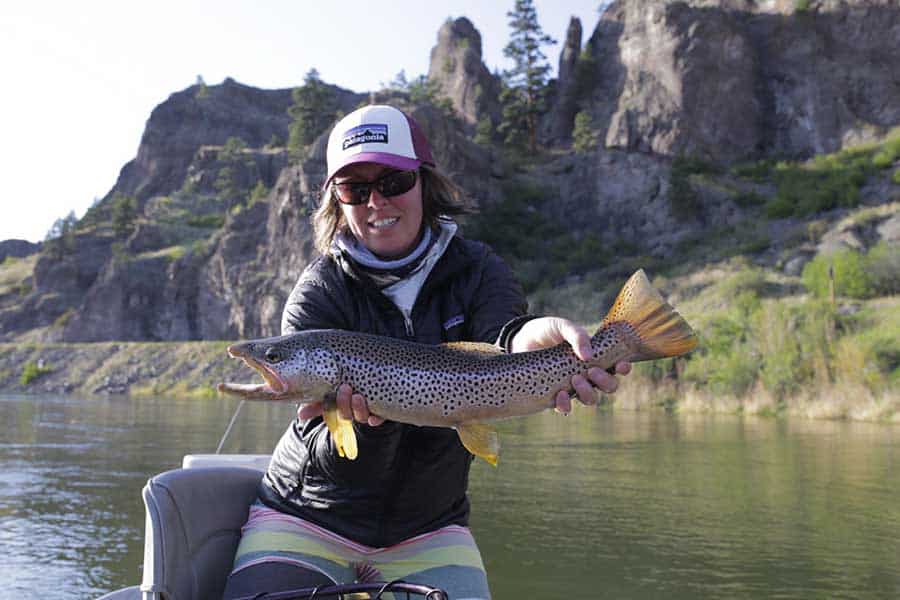 Missouri River Fly Fishing Guides
Our Montana Fishing Guides are experts in this area of Montana with years of experience of guided fishing trips offered annually. With the best fishing spots changing daily, bug selection can tricky to navigate, taking a guided fishing trip provides the most excellent way to experience Missouri River fishing. Why worry about where to go, how to pack, or what to expect? Montana Fishing Guides will show you the way, all the way!
Missouri River Fishing Information
Depending on the time of year, there are different types of insects to imitate with trout flies. From the midges to Scuds, to the BWO's, from March Browns to the callibaetis, to the Pale Morning Duns, to the Tricos and Caddisflies, we can tell you exactly which fly will yield you the best results based on our knowledge of the seasons of each aquatic insect. Scuds, Sowbugs, Green Machines, and San Juan Worms, little sedges, mayflies, ants, grasshoppers, and terrestrials are all found in prolific numbers on the Missouri River. Large trout are very selective to hatches, so knowing which fly will work best for the place and time are the keys to catching fish.
The Missouri River is home to some very large Rainbow Trout ranging from between 16-20 inches long. Boasting an average of 5,500 trout per mile, these wild fish will challenge even the most skilled of anglers. This smooth, clear river with trout everywhere is perfect, but your skills must be up in order to catch these crafty creatures! In the section below the Holter Dam near Craig, MT, the fish are smart and have seen it all. Your drifts must be drag free and your hook sets on point. Keep that rod tip up and let'm run!.
River flows are always conducive to floating and fishing from a drift boat. In the lower river, there can be tricky sections with tall canyons and faster runs, but most of the Missouri River is slow and steady, providing excellent opportunities for the seasoned angler and novice fisherman alike. Access points to the river are both numerous and easy to get to. 
Just imagine the thrill headhunting down a grasslined bank, looking for that nose that everyone else passes by, posting up 35 feet away and waiting. Waiting and watching that 22'' Brown Trout show it's nose to you. Selectively eating every PMD spinner that floats over its nose. Make that 30 foot cast that lands on the perfect micro seam, get a 5-foot drift, watch that brown trout gently sip your bug, hook set and everything hits that fan when you connect! That's the Missouri River!
As you reel it in to inspect your catch, you feel the power of the trout as it squirms in your hands, just before you snap a picture to send to your family and release it back to its natural habitat. Then, you begin again. The day is filled with moments like these.
Missouri River Fishing Report
You can catch trout from the Missouri River below Holter Dam year-round. In the winter, the fishing is still good because of the constant temperature of the releases. Spring fishing can be some of the best nymphing of the year. June is time to break out the dry fly rods. In the summer, the cool water releases provide excellent fishing, while the fall provides excellent tailwater fishing. Montana Fishing Guides can be relied upon to give you up-to-date, real-time fishing reports year-round. Your trip will never be wasted when you partner with Montana Fishing Guides as your support for incredible fishing experiences.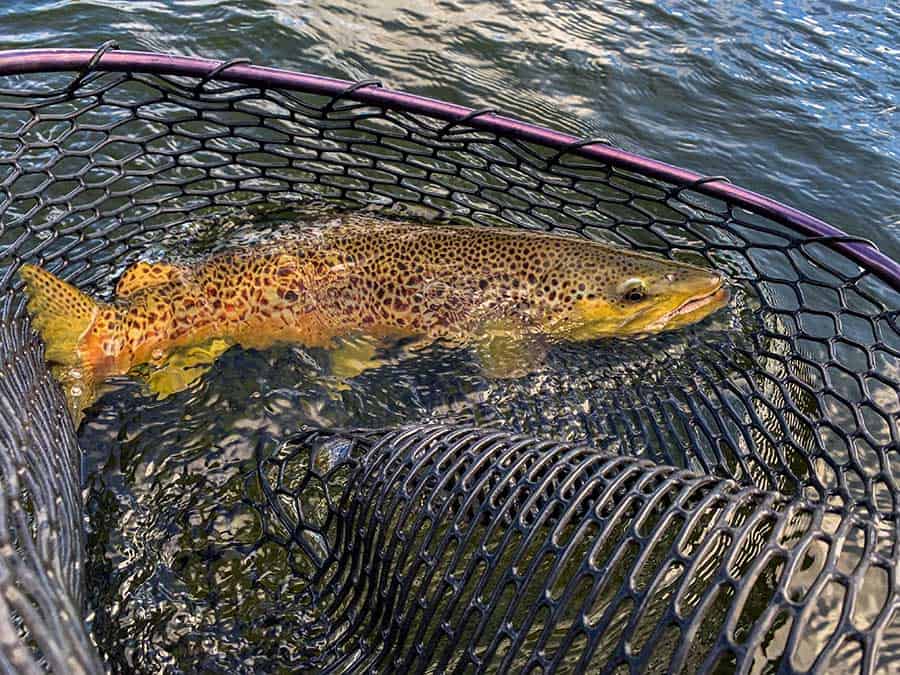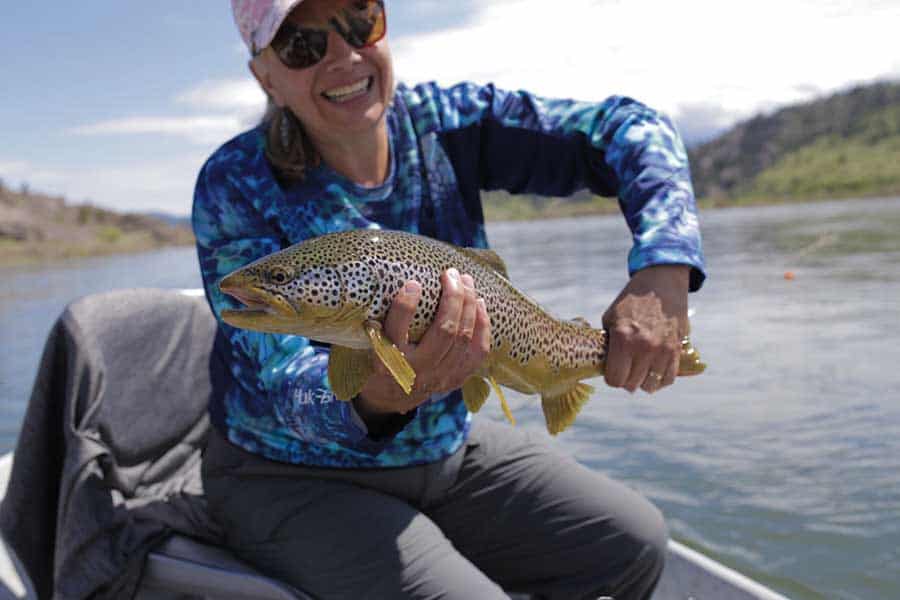 Book A Fly Fishing Trip On The Missouri River
Montana Fishing Guides can offer you the best fishing vacation to be found in the region. Whether you are taking your first trip or you're a seasoned angler, Montana Fishing Guides promises you amazing fishing trips every time. Be it a half-day, a full day, or a multi-day vacation, you can relax and unwind with the confidence that only a guided fishing trip can bring. Make the most of your next fishing vacation by trusting us with your fly fishing excursion. Experience Missouri River fly fishing with us and discover a treasure trove trophy trout fishery of which you've only dreamed.