Glacier National Park Fly Fishing
Glacier National Park is the primary location that people think about when they envision visiting Montana. Images of thrusting snow-capped mountains, crystal clear lakes, and abundant wildlife surrounding the most breathtaking views in the world can be easily imagined by the aspiring Montana vacationer. Glacier National Park never disappoints anyone that visits with those visions in mind. And while Glacier National Park may be the biggest destination spot in Montana, fishing in and near the park brings all the nature you could ask for right to your drift boat or wading boots.
The Ultimate Glacier Fishing Experience
The amazing thing about fly fishing in the park is that so many people are unaware that it is often untouched. And though often the fishing in the park is untouched the streams are not very productive. There can be some good fishing in a number of lakes in the park but the better fishing is outside the park. Montana Fishing Guides does not offer guided fishing trips in the park but the waters nearby, we know all the best places and can handle all the details and research for you, so that you can just enjoy the process, rather than stress out over the planning and execution of the vacation. The open country calls to the most avid angler for its natural landscapes, isolated fishing spots, and the surrounding beauty and wildlife.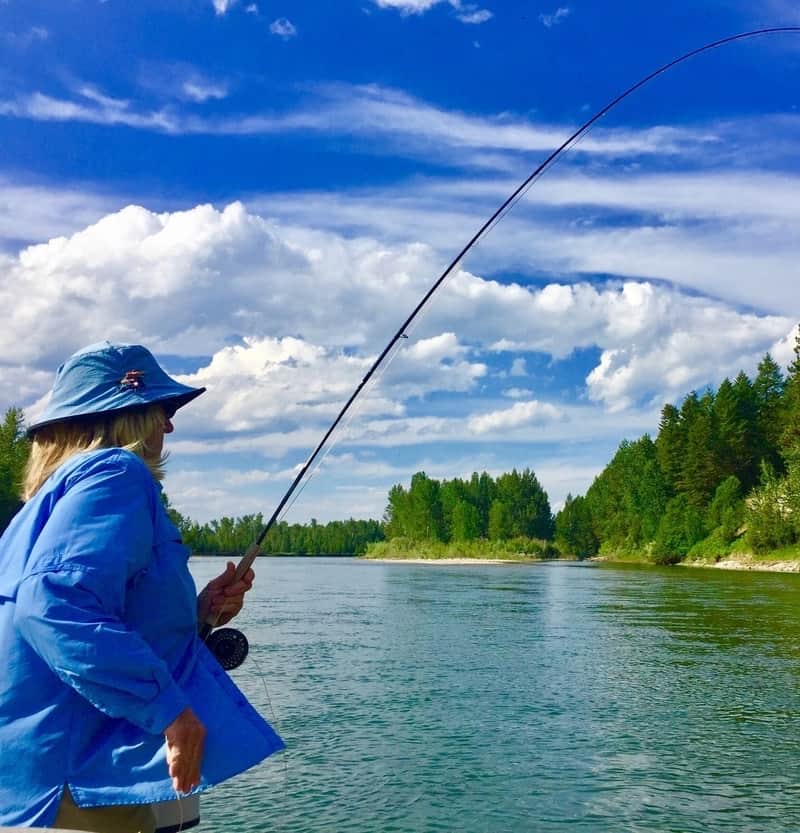 Glacier National Park Fishing
Glacier National Park is home to many miles of streams that are fed by alpine glaciers and snowpack. The Middle Fork and the North Fork of the Flathead River form two of Glacier National Park's borders. These waters are part of the National Wild and Scenic Rivers System and offer some of the most pristine fishing conditions found in the state. With 22 types of fish available in the waters of Glacier National Park, it can be an angler's dream to fish the rivers and streams of Glacier. From Cutthroats to Rainbow Trout and Bull Trout, large and smaller fish are there in good numbers for both catch and release and taking a few of the non-threatened species home.
Surrounded by majestic mountains and icy glaciers, the park is visited by an average of 2 million tourists annually. What is amazing about fishing in Glacier National Park is that unlike some of the other more popular areas of the state, Glacier is not nearly as well known as a fishing destination spot. It does, however, offer some great places to fly fish, shoreline fish, ice fish, and some breathtaking lakes and streams for other fishing as well. Glacier also has about 50 remote lakes that can be hiked into for isolated lake fishing. For the avid outdoor adventurer, a 3-6 mile hike is only the warm-up and quite worth it to find some of the best fishing in the world. Bring your sense of rugged adventure to Glacier National Park and you will always be treated to gorgeous scenery and bountiful fishing opportunities.
The Best Fly Fishing in Glacier National Park
The Flathead River system provides some of the most pristine waters surrounded by gorgeous mountains and forests to keep any outdoor adventurer happy. From Midvale Creek in the Two Medicine River drainage and Wild Creek in the St. Mary River drainage, catch and release fishing for cutthroat trout is popular. And lake fishing in the Hidden, Evangeline, and Camas Lakes in allow for small numbers of fish to be taken from them. No matter what kind of fishing you want to do, be it shoreline or from a boat on streams, rivers, ponds, or lakes, Glacier National Park offers almost every condition for which one could ask.
Fly fishing is at its best from May to October in Glacier National Park. And ice fishing is in full swing once the snow flies and the waters freeze. During milder years, one can see people out on the rivers and lakes fishing almost all year round. Clad in the best gear with the perfect equipment, avid anglers enjoy the solitude, peaceful atmosphere, and the challenge of the natural environment and changing climate when they visit Glacier National Park for their fishing vacation. And the wildlife abounds to liven up your views ranging from birds and deer to majestic elk and moose.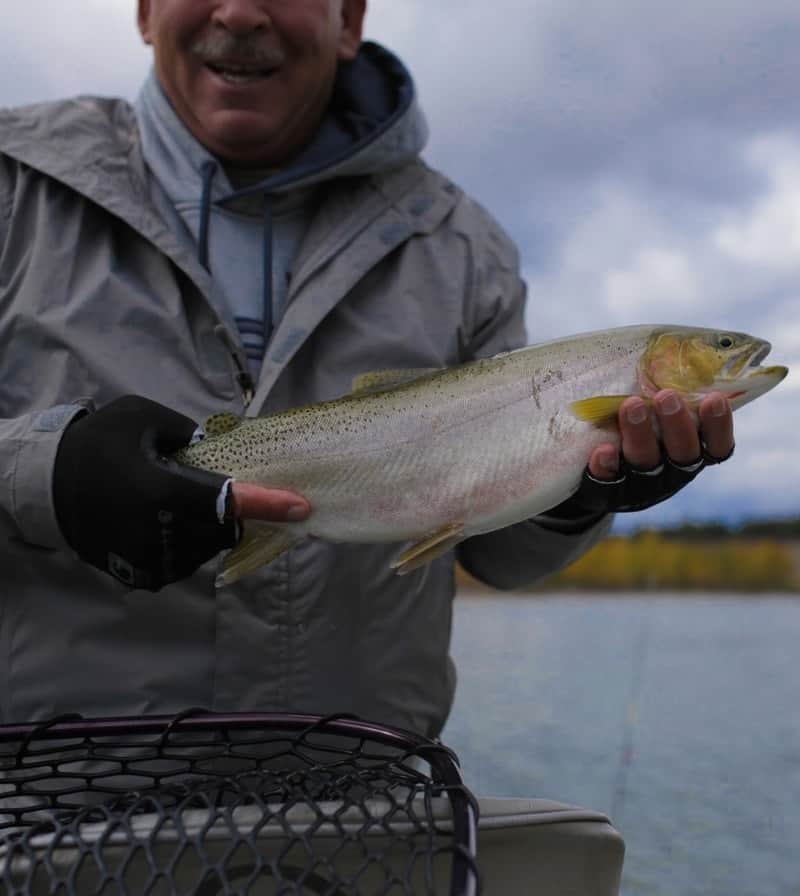 Glacier National Park Fishing Guides
Having guided thousands of anglers through the landscapes of Montana fishing spots, we at Montana Fishing Guides are experts in knowing the best places to find the perfect fishing conditions at any given time of the year. We know this land like the backs of our hands, so you are safe to really dig into your experience when you trust us to lead the way. Our trained guides know firsthand how to get and give you the most out of any length trip, so you will really get more bang for your buck, so to speak.
Our guided fishing trips allow you to fully relax without worry that your day will be wasted searching to find the best spots only to find them overcrowded, overfished, or conditions that you cannot handle. Who wants to spend half the trip driving around or hiking to get to the right place only to find that the fish aren't biting? That will never happen when you work with a highly experienced guide. When you fly-fish with Montana Fishing Guides, you'll have all the experience of great fly fishing guides, fishing reports, maps, and you'll be outfitted with our equipment and fishing gear, so there's no need to rent, borrow, or fly with heavy, cumbersome gear of your own. Just book the flight and we'll help you land the fish!
Glacier National Park does not allow guided fishing trips in the park boundaries. Montana Fishing Guides does guided fly fishing trips near Glacier National Park.
Book A Fly Fishing Trip Near Glacier
Montana is truly legendary for river and stream fly-fishing and lake fishing alike. You have to see Glacier National Park for yourself to believe it. And once you do, you'll fall in love with its beauty, serenity, and natural surroundings. It is like taking a step back in time when you visit the area. Glacier National Park fishing is most arguably the best fishing in the country, if not the world. Your trip will be filled with adventure into the wildest part of the nation and surrounded by the most spectacular views and pristine environment left in the Northern Hemisphere.
At Montana Fishing Guides, our mission is to take all the guesswork out of your precious vacation time, which could be an annual week or a few weekends over the year. When you let us guide you on your excursion, you'll learn so much about our lovely state, partake of adventure on a grand scale, and gain mastery over your fishing skills along the way. Whether you want to take a 1/2 day, full-day, or multi-day trip to Montana for fishing, we can custom plan a trip that fits your skill level and that of your companions fulfills either your need for isolation or family recreation, and will also fit your time frame and budget. When you hire Montana Fishing Guides to lead you on your trip, you'll be treated to the best that the state has to offer in just a short time. Our guides are knowledgeable, professional, and are highly seasoned in the art of guiding anglers just like you through the journey of a lifetime.