Montana Ice Fishing
Some might ask the question, what is the appeal of ice fishing? For the avid ice fisherman, the list of likes is quite long. Gone are the days of fish spearing in frigid temperatures wearing fur pelts and shoes. Thanks to technological advancements in clothing, gear and ice drilling equipment, ice fishing has gone from a solitary experience as a means for hunting food to an incredible journey into the wild of the world. Ice fishing is a sport filled with fish catching, fellowship, sometimes whiskey and fabulous views of mountain snows and scenic landscapes. And as ice fishing has gained in popularity, Montana has become the leader for ice fishing opportunities. It is truly a magical mecca of ice fishing that calls to the most adventurous outdoorsman.
The Ultimate Ice Fishing Experience
When ice fishing began, one might use an axe to chop out a hole in the ice to cast one line, hoping to snag a slow moving fresh fish. Using newer techniques and gear, catching fish is almost as much the point to ice fishing as is enjoying the great outdoors while reflecting on life and the love of the wilderness with your friends and family. Yellow Perch, Kokanee Salmon, Crappie, Northern Pike, Cutthroat Trout, Rainbow Trout, and Brook Trout are there for the taking at any of the most desirable ice fishing spots in Montana. There is a romantic quality to ice fishing in the most beautiful state in the country. And one must embrace those qualities along with the elements to get the most out of an ice fishing excursion.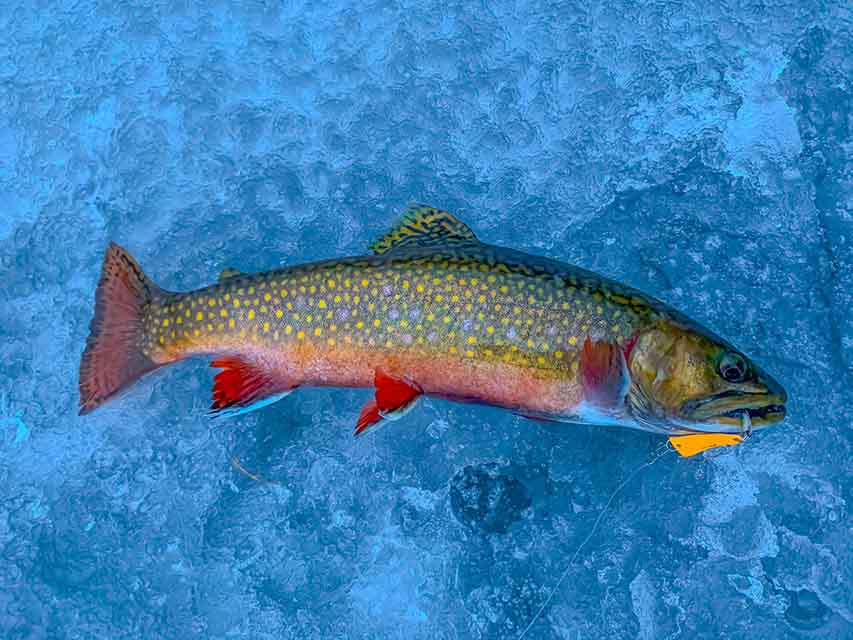 Best Ice Fishing In Montana
From Flathead Lake to Whitefish Lake, to Beaver Lake and Echo Lake, to the lakes surrounding the Seeley/Swan and the famous lakes "Up North", you can find the best and most numerous, epic places for ice fishing in Montana. If ever there was a sport besides skiing that takes full advantage of all that Montana has to offer, it is ice fishing. Breathing in the fresh Montana air, seeing the wildlife of winter flying and running around you, taking in the colors of the snow-glowing mountains, nothing will surpass the enjoyment to be had when ice fishing one of Montana's most famous fishing spots under the big sky.
Surrounded by the isolation and majesty of the Montana scenery at its best, you will have once-in-a-lifetime experiences when you choose ice fishing for your next sport of enjoyment. There is no better feeling than being out on a frozen lake with a small group of friends, family, and guides, taking into your being the incredible sensations you will experience when you try ice fishing on for size. If you have never seen the snow capped mountains, pristine waters of the frozen lakes, and snow flurry-flocked pines reaching for the blue skies in Montana, you will be amazed at how much there is to enjoy in this great state when you embrace the winter sport of ice fishing.
Guided Ice Fishing Trips In Montana
We at Montana Fishing Guides are experts in guided ice fishing trips around Montana. With thousands of guided trips on our lines, we specialize in providing the safest, most affordable excursions to fulfill the dreams of every ice fisherman's bucket list. Offering everything from half-day and day-trips to multi-day and week-long ice fishing trips, Montana Fishing Guides excels in creating experiences to be remembered and cherished. Montana Fishing Guides has worked with different government agencies to obtain special permits for some pretty unique ice fishing spots. We get off the beaten path to some pretty special ice fishing lakes. Isolated lakes in the mountains surrounded by whisper quiet pine forests and long gravel roads. Not only are our guided fishing trips extremely affordable, we also offer group rates for families, groups of friends, serious ice anglers and anyone else who wants to go have a fun day on the water. Montana Fishing Guides will show you how to get'm!
Ice Fishing Gear For Guided Trips
One of the main concerns we hear for those reaching out to plan an ice fishing trip in Montana is the major investment needed for the gear and equipment to execute such an adventure. That is why we at Montana Fishing Guides have invested to provide all the necessary state-of-the-art gear and equipment one needs to not only make the journey possible but also quite comfortable. Between the shelters, rods and reels, bait, drilling holes and not to mention all the lures and jigs, you can rest easy knowing that your trip will cost no more than your plane ticket and reasonable guiding fees to be able to take to the frozen lakes of Montana in style. Since we are experts, nothing will be overlooked to make your dream a reality when you choose Montana Fishing Guides to lead your next ice fishing party.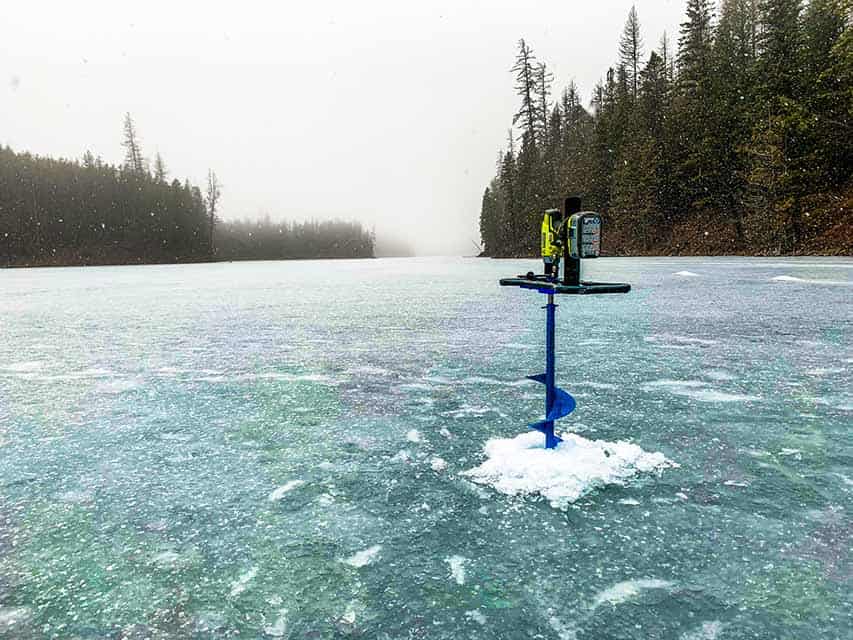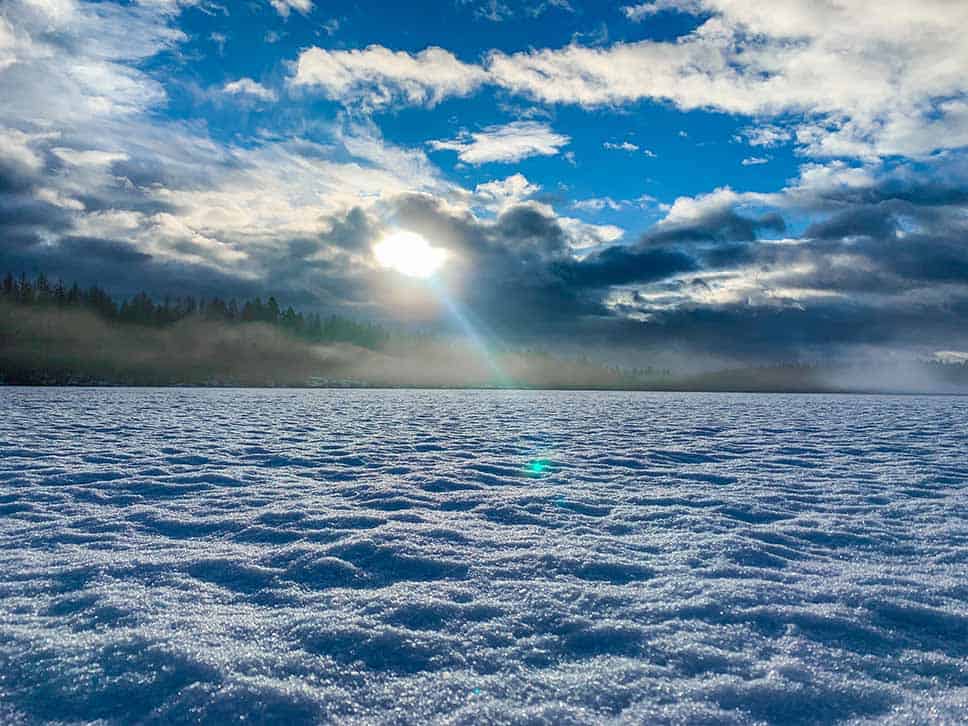 Montana Ice Fishing Report
Because we know Montana and all the hazards involved in driving, walking, and fishing in inhospitable conditions, we at Montana Fishing Guides make it a priority to stay on top of all the latest weather, snow, ice, and fishing conditions in the state. Using real-time fishing and weather reports, we can confidently and safely guide you to the best, most perfect fishing spots in the area. In order to ensure successful fishing under the harshest circumstances, we will always guide you to the places with the thickest ice and the best fishing during your next ice fishing vacation in Montana. Don't leave your next adventure to chance. When you book a guided ice fishing trip with Montana Fishing Guides, satisfaction and safety are guaranteed!
Book An Ice Fishing Trip Today
Bring your friends and your deep sense of adventure to Montana for your next ice fishing vacation and book a guided trip with Montana Fishing Guides. Reach out to us for questions and we will have the answers for you before you even begin to plan your next winter vacation. Though catching a fish can be a thrill from under the icy waters of Echo or Whitefish Lakes, it is not the only reason to make ice fishing a regular travel experience. Nothing will prepare you for the feeling of peace and tranquility when you try ice fishing with expert guides such as Montana Fishing Guides. Embark on a journey of a lifetime and leave the planning, gear, and worry to us. Once you have experienced an ice fishing trip with Montana Fishing Guides, you will find yourself dreaming of the next chance to taste the wild, fresh caught fish, and the spectacular adventure that only Montana can offer an avid ice fishing angler.