Whitefish Lake Fishing
In our high-paced modern world, finding time to relax seems to be one of the last things on the priority list for so many of us. With mounting pressures both financial and familial, people put their vacation needs on the back burner, placing schooling, careers, politics, volunteering, or caregiving ahead of individual needs. It's no wonder why even physicians are prescribing time spent in nature as a remedy to stress and stress-related illness. Now more than ever, humans long for a return to a time when cell phones, television, and microwave dinners were not yet the norm. Instead, the modern individual craves the solitude, the healing catharsis of quiet time, and the experiences that only nature can offer.
The Ultimate Fishing Experience
For those reasons, each precious vacation must be taken advantage of fully, with every day away from home, each moment, offering the medicine of enjoyment that people deserve; the mental break from the daily pressures of life should be an experience to be cherished. Witnessing nature in its purest form offers a feeling of freedom to which almost nothing can compare. One must learn, or even practice taking the time needed in life to stop and smell the roses. Let Montana Fishing Guides show you the way to mastering the art of taking that time.
Imagine arising before dawn. The day holds a promise of sun, shimmering waters, natural soundscapes, and connection with wildlife. A coffee pot bubbles in the background as you prepare your rods for a day on the water. Fresh dew glistens in the moonlight on the grass beneath by the shoreline. As the sun rises, you hear morning birds chirping in the trees as they feed their young, still warmly snuggled in their nests. A light mist hovers above the waters around you. You can see your breath just slightly as you take in the fresh mountain air. Butterflies in your stomach play gently with your growling hunger as you anticipate your day and your breakfast! A homemade biscuit and hot beverage steam in your eager hands while you and your companions ready for the day's journey to Whitefish Lake.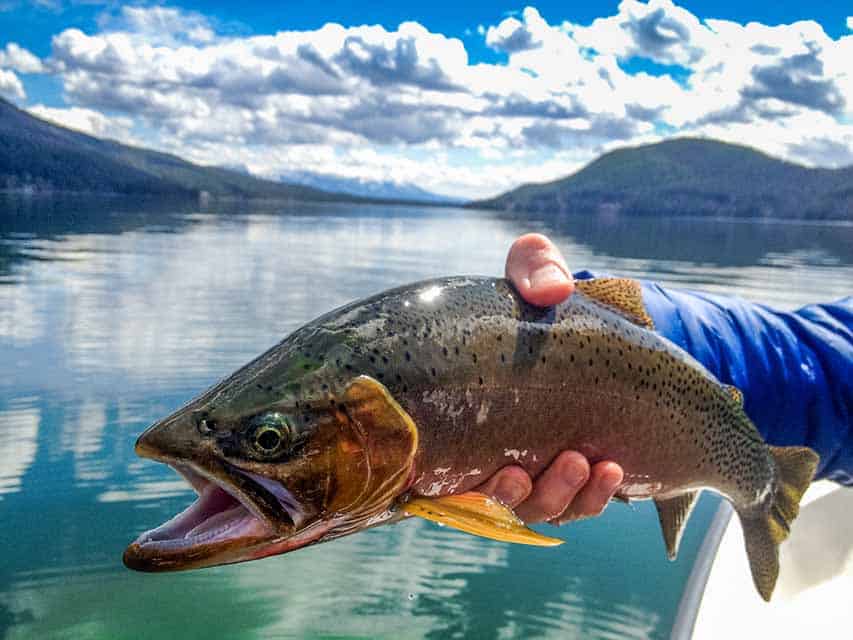 Fishing Whitefish Lake
Loading the boats takes very little time as you begin to feel alive with the feeling of relaxation filling you. Whether you are a first-time fisherman or a life-long fishing fan, you giggle a bit inside like a child on Christmas morning, expectation and joy arising with each preparation for the day. Guided by expert fishing coaches, you feel supported and confident that your experience will be easy-going, yet potent.
You try to imagine the thrill of casting the first line of the day. You visualize the look and feel of the first bite on the line of one of the robust fish promised in Whitefish Lake. Pictures of Lake Trout, and even northern pike bounding from the shimmering water onto your line fill your mind as you push the boats into the placid, morning lake. The light sounds of conversation and wildlife mingle to make a symphony in your ears as you embark on the journey of a lifetime. Whitefish Lake is your doctor's office today. Montana Fishing Guides are your physicians. And fishing is your medicine.
Whitefish Lake Fishing Report
Created by melting glaciers, Whitefish Lake measures 3,300 acres in size. And the fishing rivals that found in Flathead Lake. Surrounded by exotic homes nestled in tall trees, grand mountains and sprawling skies paint breathtaking pictures of epic proportions. With fishing from Spring season in March and April, to the run-off season of May and June, the prime time of summer, fall fishing from September through October, and Winter ice fishing from November to March, year-round fishing can be enjoyed on this pristine lake. Glacier National Park is home to some of the most incredible views in the world. And Whitefish Lake promises everything a fishing fan can expect from nature at its best.
Montana Fishing Guides, like good physicians, hold their expert fingers on the pulse of the best fishing times and places by constantly monitoring the Whitefish Fishing Report, with real-time information constantly updated. One can rely on the moment-to-moment updates to successfully plan and execute an epic adventure on Whitefish Lake, no matter what time of year. When you choose Montana Fishing Guides, your fishing experience is assured to be the best it can be during your Montana vacation.
Whitefish Lake Ice Fishing
Winter season does not stop the avid fisherman from enjoying the craft of fishing. Using state-of-the-art gear and clothing, a fishing fanatic can experience everything in winter that a summer water sports lover might enjoy. In fact, many people find that the winter experience offers even more of what a journey like this can promise. The towns are less populated, the lake is much quieter covered in snow and ice, and the fish are just as plentiful. Ice fishing can and should be a calming, relaxing way to spend a day on the lake.
Using portable tents or in small sheds built for the sport, an ice fisherman can expect a warm, hospitable dwelling within which to take refuge from wind and weather. In a group or individually, ice fishing is a remarkable experience for both experts and novices alike. With a thermos of hot coffee or a snifter of warm schnapps and cocoa, the winter adventurer understands how to make the most of the experience. Geared up with just the right clothes, ice rods, a fire on the ice, and a Thermus full of a warm beverage of, ice fishermen boldly go where few have gone. The quiet solace of winter season offers tranquil, yet rugged experiences in nature. Many locals savor this time of year and while the tourists and snowbirds fly south to warmer climates, those who winter in Montana find themselves in the unique situation that only the solitude of winter can bring. Spending a day ice fishing makes even the simplest experiences seem profound; a hot shower, roaring fire, and warm meal await at the end of this day's journey and the winter adventurer knows how to relish those experiences almost as much as the fresh fish.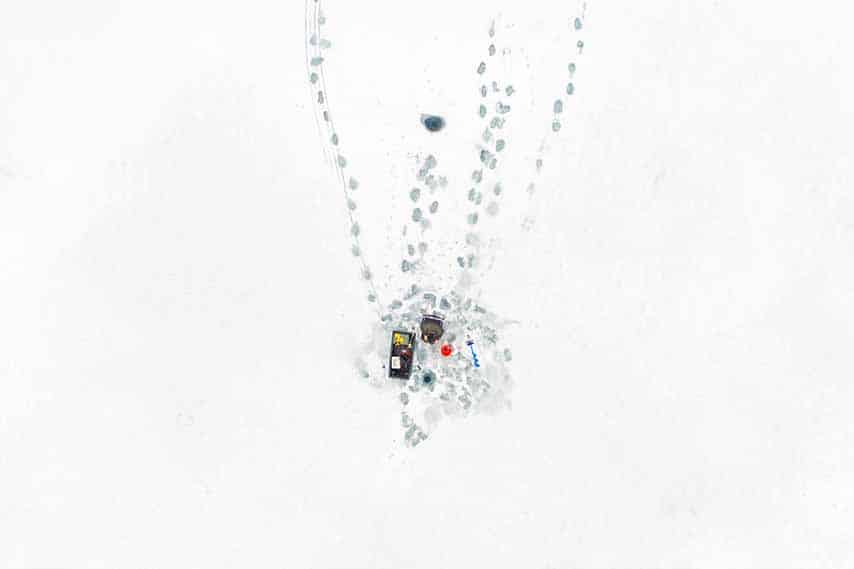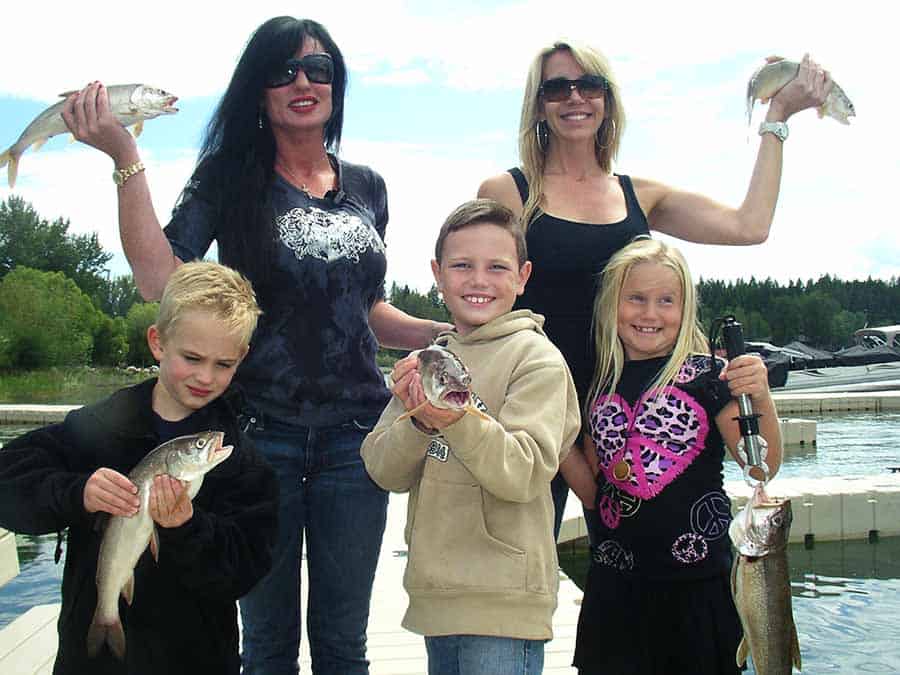 Whitefish Lake Fishing Guides
Montana Fishing Guides excels in planning and executing the best-guided fishing trips all year round for one simple reason: we know the benefit of spending time in nature as an elixir to the stress of modern life. Before anyone can heal from any ailment, first one must seek out the right physician to help cure the dis-ease. Once you find us, you will choose us to diagnose your needs with precision. That's because we know first hand that nature is good for what ails you. Let us guide you on your journey of learning to be in the moment. And let nature be your remedy on your next guided fishing trip on Whitefish Lake.