Great Falls Fly Fishing
Great Falls, Montana is home to the Missouri River and some of the best fishing in the country. Boasting spectacular views and abundant wildlife, Great Falls is the perfect place to stay while fishing on the Missouri River. Nature does not get any better than this and anyone who has visited Great Falls for fly fishing knows that the only thing to wonder is how many and how large the catch will be on an amazing trip on the surrounding lakes, rivers, and streams.
The Ultimate Fishing Experience
It's no wonder why people come from all over the world to fly fish in Great Falls, MT. With a local airport to serve travelers, Great Falls is so easy to get to, with little hassle or time needed to reach a stellar destination. Even given the popularity of fly fishing in and around Great Falls, MT, it's amazing how few people there can be on any given day of the seasons. From the seasoned angler to the novice first-timer, all who journey to Montana for fishing will leave with the memories of a lifetime. There is no better way to spend a vacation or weekend than fishing the great rivers of Montana.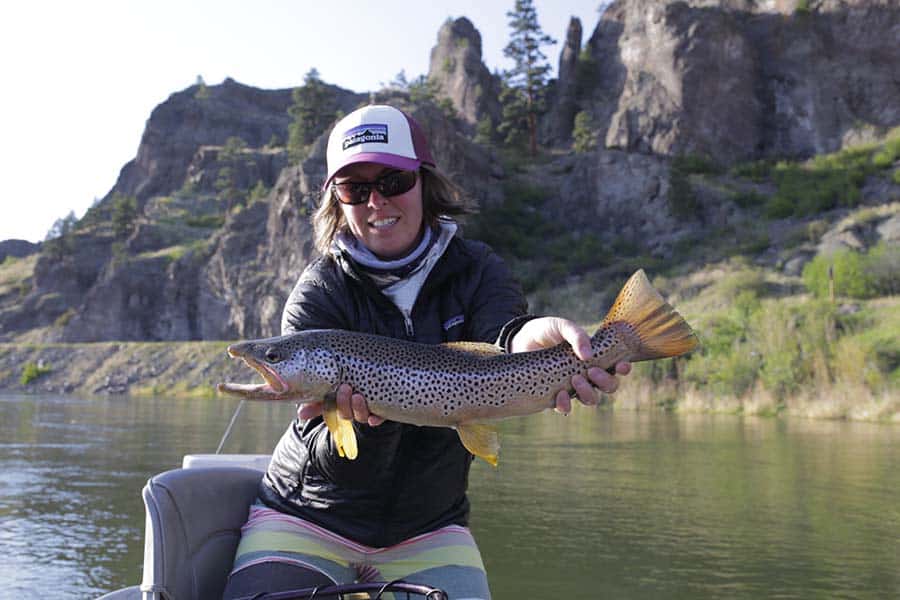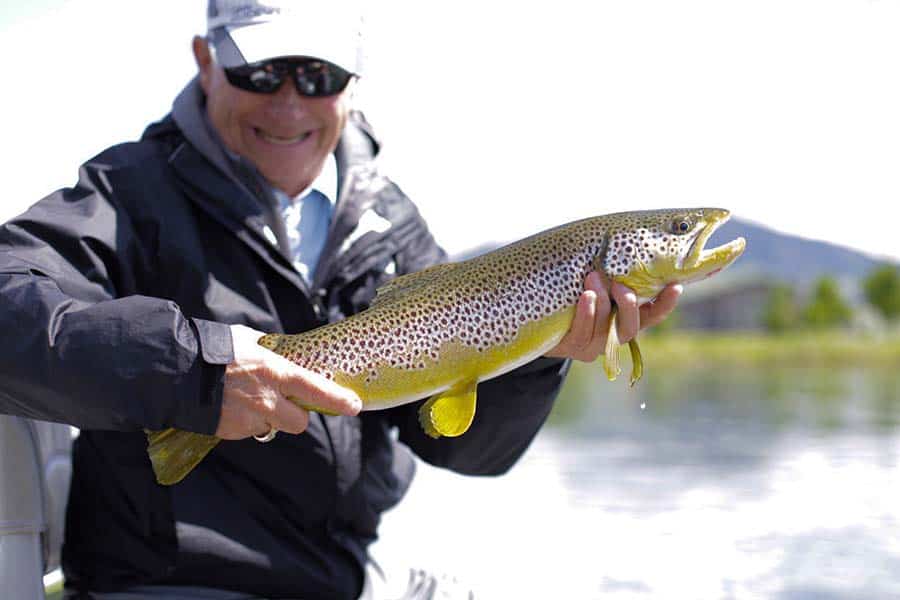 Great Falls Montana Fishing
Along the Missouri River, just before the water flows into the town of Great Falls, lies the Black Eagle Dam and Falls. An epic sight to behold, the area shows off incredible views of majestic mountains, sparkling streams, and rolling pastures. A picturesque place of serenity, the Great Falls area has just the right amount of city vibe to satisfy the outgoing angler with Montana nightlife and dining. Though there are only a handful of local hotels and restaurants to fill the needs of Montana tourists, the quiet, peaceful community of Great Falls truly lives up to its name.
Fishing in Great Falls, MT, is a short drive to the famous tailwater below Holter Dam on the Missouri River and it is easy to enjoy local, urban fishing sometimes only within a few miles from town. Kids can be seen riding their bikes to the shorelines to play with their families who fish. Canoes, boats, and rafts are easy to load with multiple places to put-in on the rivers and streams. The Great Falls fly shop is close by offering all the tools and toys an angler could want.
The river section by Giant Springs State Park is also stocked with hatchery trout and is stocked weekly. Great Falls area anglers can also rely on several other urban spots such as Wadsworth Pond and the Missouri, Sun River and Belt Creek, where public parks and trails allow access. In these great fishing areas of Montana, one can find catfish, walleye, brown and rainbow trout, carp and small-mouthed bass.
The Best Fly Fishing in Great Falls, MT
One does not have to travel far when looking for great fly fishing in Great Falls, MT. Within 30-40 minutes of driving from the Great Falls Airport, one can be at 3-4 different incredible trout streams. Unlike some other areas of Montana where an hour-drive will yield the best fishing, Great Falls is close to so many excellent fishing spots.
For the angler seeking solitude, Central Montana, and particularly fly fishing in Great Falls, MT offers more opportunities than other areas of the state. Though there are blue-ribbon trout rivers such as the Missouri and Smith Rivers, the lesser-known, yet equally pristine areas such as the upper Dearborn River, the upper Teton River, and the upper Sun River are known more by the locals and so they host fewer numbers of fishing enthusiasts than the other, more prominent rivers. This means more fish, more seclusion, and more isolation for the angler seeking solitude. The best trout fishing will always be closer to the mountains. Fly fishing in Great Falls, MT offers both close proximity to numerous bodies of water, and urban fishing which makes it a great place to spend your fishing vacation.
Just imagine the perfect day on the Missouri River. With your fellow companions, you awaken before dawn to the rising sun. You begin to anticipate the day's river excursion. As you sip your cup of coffee or tea, your morning walk brings cool, crisp air, into your lungs, while the sounds of migratory birds in the trees opens your mind to the possibilities of the day. A rush of excitement ensues. After a little packing, your group prepares to depart for the river. What is your first stop? The Missouri River!
While loading the boat, check out the amazing eastern Montana scenery taking it all in. Take a few minutes before you are accompanied by expert Montana Fishing Guides and you embark on the river at last! With waders, dry flies, rod and reels, and secret flies, you feel confident that your river mission will be fruitful. With current, up-to-date fishing conditions checked and rechecked, you are off on the adventure of a lifetime!
Great Falls, Montana Fly Fishing Guides
Montana Fishing Guides are far and away the best fishing guides in the state. From our experience to our years and years of offering guided trips, we are the leaders in our field. When you plan a trip for fly fishing in Great Falls, Montana, you can rest easy knowing that you will be treated to the best fishing areas the state has to offer. To experience everything fly fishing provides, a tidy trip plan can mean all the difference. We at Montana Fishing Guides pride ourselves on being the perfect guides for all your Montana escapades.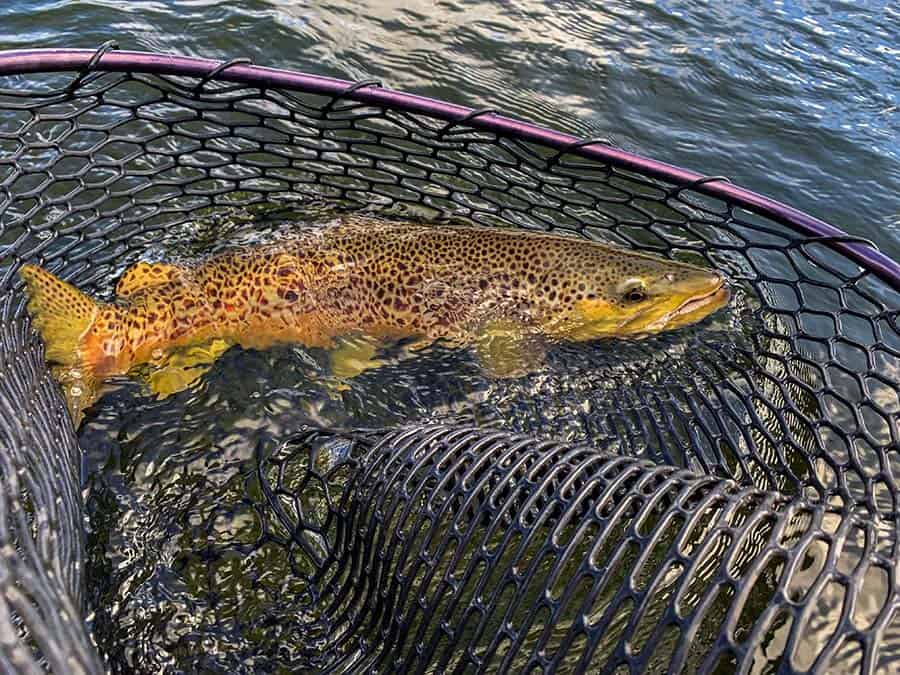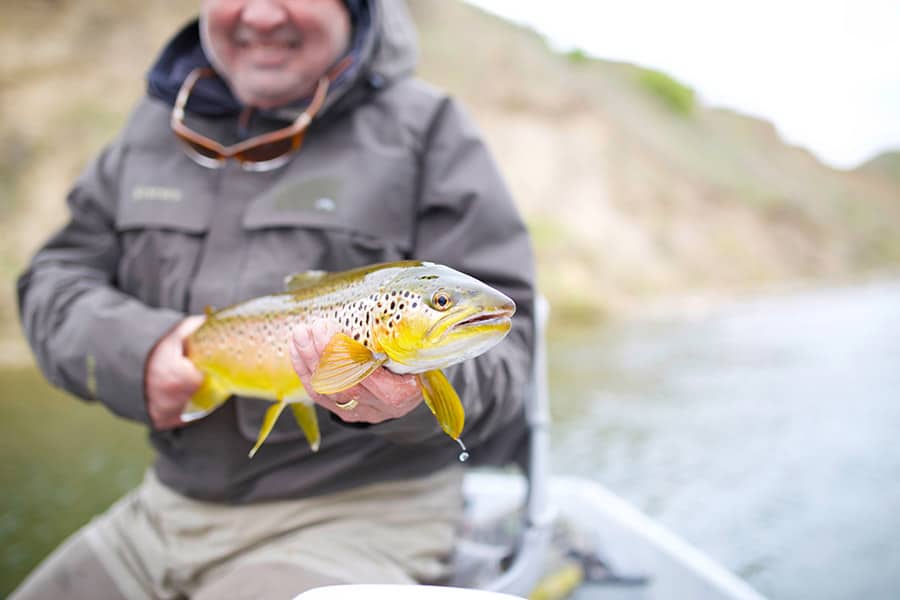 Book a Fly Fishing Trip in Great Falls
Whether in town for a few days or staying for the summer, Great Falls fly fishing will satisfy almost the most discriminating angler. You can book your next fly fishing trip to Great Falls directly with us. Montana Fishing Guides offers half-day, full-day, and multi-day guided fishing trips and vacations to serve your every need. You do not need to look any further when it comes to finding the right guide for your next Montana fly fishing vacation to Great Falls, MT.