Fly Fishing In Kalispell Montana
As a world-renowned place for recreation, Montana is home to the most spectacular views known to man. From the snow-capped mountain ranges surrounding the lush, green valley pastures to the crystal blue rivers and lakes overflowing with waters on the banks of tall trees, Montana is a destination spot for travelers worldwide. Whether to visit family, or recreate in Glacier National Park, Yellowstone Park, or on Flathead Lake, visitors report that the Montana experience is unlike anywhere else on the planet. With its rare and bountiful wildlife including large populations of myriad fish, elk, deer, bison, big horned sheep, bears, bald eagles, and mountain lions, Montana feels like wild and untamed country. With just over a million people covering the huge state of over 147,000 square miles, Montana is a majestic, sprawling landscape to behold.
The Ultimate Fishing Experience
Outdoor life must be appreciated in order to live life to the fullest in this region of the country. Perhaps that is one of the reasons that activities such as skiing and fly fishing have become so popular here. Nature itself supports those activities by offering prime opportunities for such outdoor sporting. Since the 1930s, fly fishing in Montana has been thriving as both a way to catch fish, a booming business for travel, and a recreation, which takes advantage of the accompanying weather and all that the natural environment has to offer. And since the book by Norman Maclean A River Runs Through It was released in 1976 and certainly even more recently since the release of a film of the same title starring Brad Pitt in 1992, the state of Montana has been put on the map as a sought after fishing destination rivaling that of anywhere else in the world.
Montana Fishing Guides offers the best fly fishing trips in the state. Why are we the best you might ask? Years of experience on all the rivers in the region coupled with an exceptional understanding of how guiding benefits our clients make us properly attuned to each and every would-be vacationer's needs. We KNOW Montana. And we bring the ultimate in experience to all who travel with us.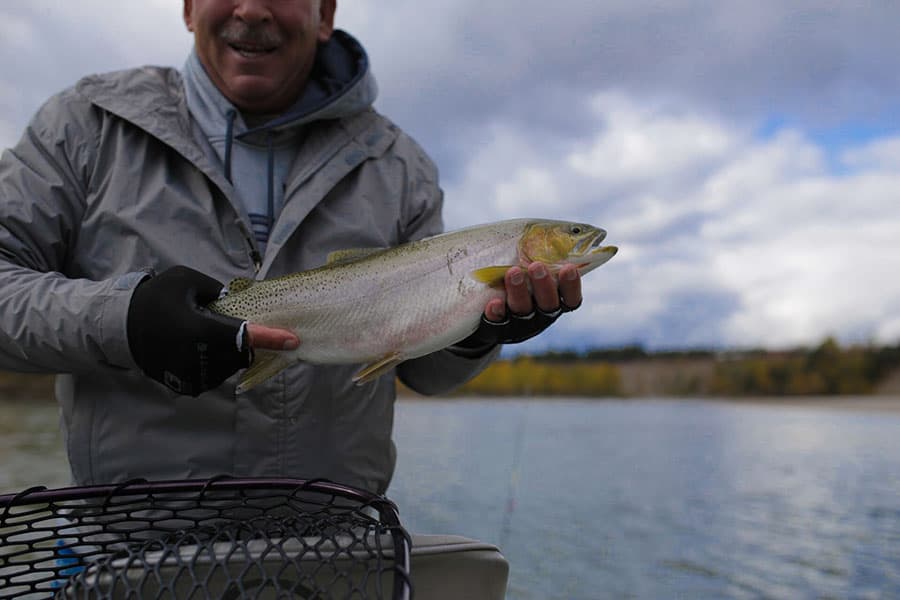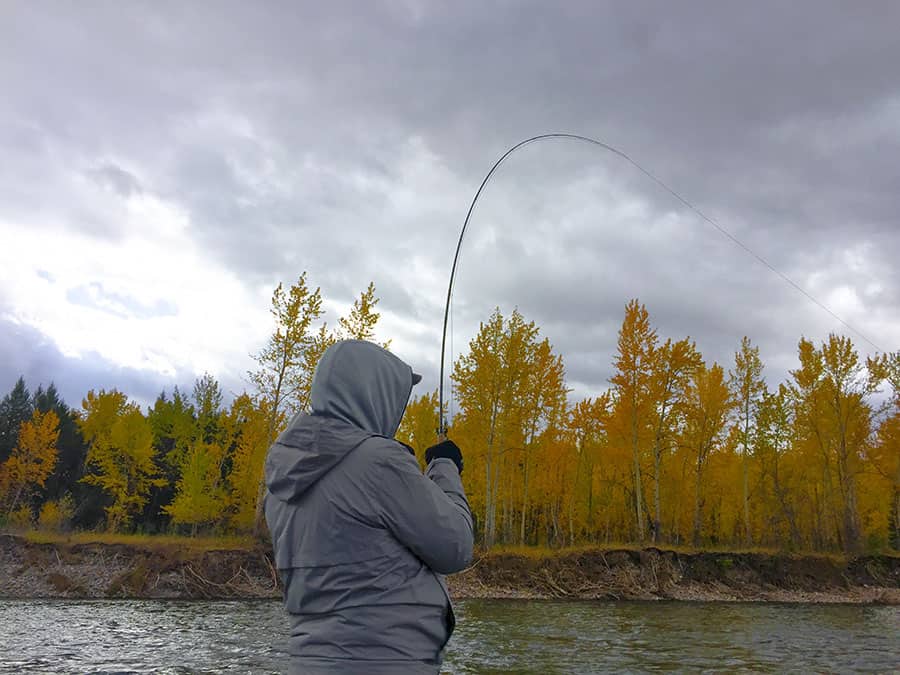 Kalispell Montana Fishing
From the pristine headwaters in Glacier National Park and the Bob Marshall Wilderness, water flows through almost 6 million acres of mountains, forests, valleys, and urban pastures. The waters of the Flathead, Stillwater, Swan, and Whitefish Lakes become Flathead Lake, the largest natural freshwater lake west of the Mississippi, which is just south of Kalispell, MT. Flathead Lake and Lake Koocanusa are excellent trout fisheries, famous for their Mackinaw, and Rainbow and Bull Trout. And the cold, clear streams make fly fishing prolific in all directions surrounding Kalispell. On the smallest lakes, pontoons and boats can be seen, and on the rivers, drift boats, canoes, and rafts take passengers all over the area to experience the best the state has to offer.
Ice fishing is also quite popular in this area. The lakes freeze perfectly and the snow-capped mountains surround the frozen lake towns in and around Kalispell. The Kalispell Fly Shop is conveniently located in Kalispell so that every angler can find exactly the right fly, rod, reel, and tools to make any fishing trip to Montana a success.
The Best Fly Fishing in Kalispell, Montana
Native Bull trout and Westlope Cutthroat navigate the beautiful waters flowing from Glacier to Flathead Lake. Over 300 species of aquatic insects, including 105 different stonefly species inhabit the area. It's no wonder why Kalispell is so popular for its fly fishing. Birds, bugs, and fish are bountiful here, making Kalispell, Montana fly fishing the best that can be had anywhere. Nestled in between other gorgeous small towns such as Bigfork to the southeast and Whitefish just north, Kalispell and its surrounding areas are truly magical almost any time of year.
Since Flathead River is fed primarily by snowmelt and mountain lakes, the water stays quite cold even well into summer and again in the fall, keeping the wild cutthroat trout hungry for dry flies. The latter part of the summer is typically terrestrial fishing with ants and hoppers as the temperatures warm. Though the fish in this river are not as bountiful as in other rivers and streams in Montana, the fly fishing in Kalispell is often better due to less pressure on the population and therefore more acquiescent fish. Finding a trusted Kalispell Fly Shop can help the novice or expert to be prepared with the best flies or bait appropriate for the time of year.
Flathead River has two very excellent conditions aside from the lower pressure; fly fishing in Kalispell on the Flathead River does not require as much skill or specific flies like other areas of the state. The native Westslope Cutthroat trout and rainbow in this area are not nearly as picky, making it much easier to catch them when fly fishing near Kalispell.
Because of the breadth, depth, and speed of the Flathead River, wading can be often dangerous, so it much more effective, and safe, to fishing from a drift boat than from shore. Hiding in the deep water next to banks, in the many riffles and runs or along waist deep boulder gardens the fish of the Flathead River love to eat dry flies.
Kalispell Fly Shops
Kalispell, Montana is a fly fishing mecca, no doubt. As a destination spot, it calls to the outdoor adventurer bringing travelers in from around the world. And every traveler knows that only the best fish can be caught with the right tools. Kalispell does not disappoint in providing a fly shop to support even the most seasoned angler's fishing dreams.
With over a dozen specialty fishing tackle shops in and around the Flathead area, True Water Fly Shop, Kalispell fly shop, is a full service fly shop that has every kind of quality fly fishing equipment needed to supports any avid fly angler's fishing trip. From rods and reels to flies and line, Kalispell fly shop has all the gear you'll need to experience the best fishing the state has to offer. One can easily find some of the highest quality gear such as waders, packs, sun shirts, and much more. Finding exactly what you need when you need it, is as easy as driving to True Water Fly Shop, just down Main Street, to come upon the best fishing gear available on the market today.
So, when you are planning your next fly fishing excursion with your family and friends to the great state of Montana, you'll never have to worry about whether you are bringing everything you need. If there is something specific missing from your stash, you can get it when you get here. Just catch a flight. And Montana Fishing Guides will help you catch the fish!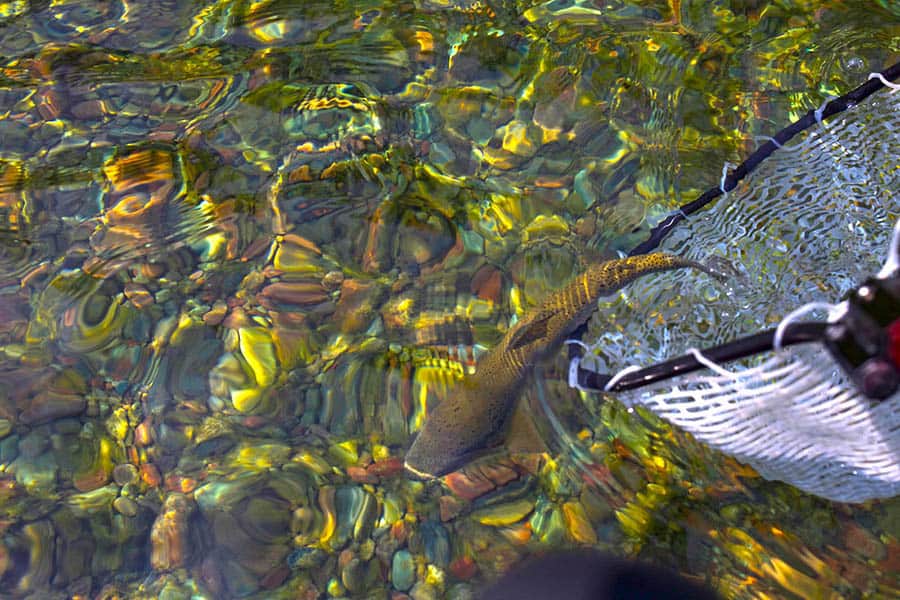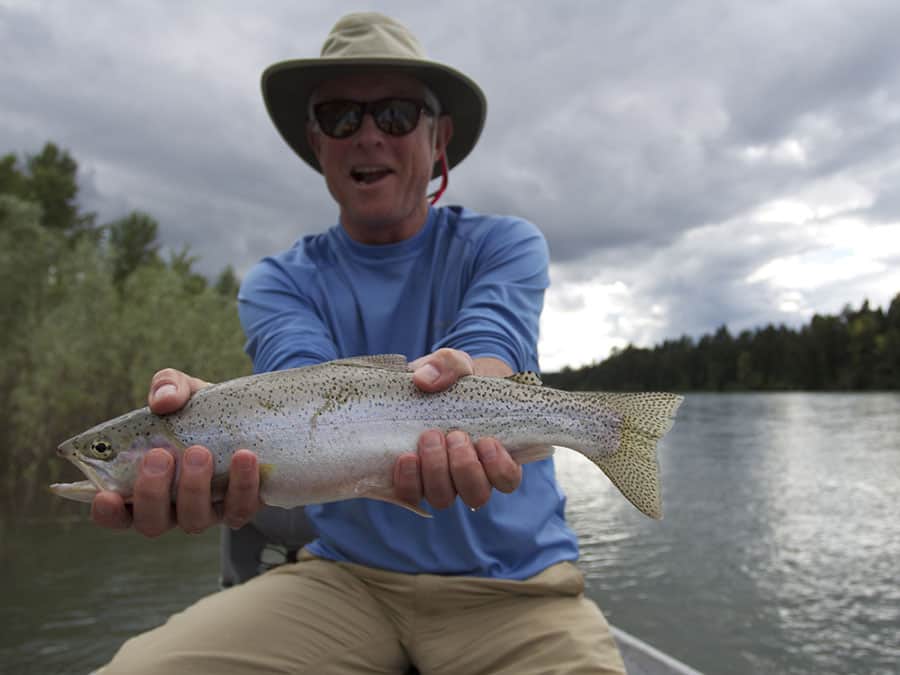 Kalispell Montana Fishing Guides
Montana Fishing Guides offers the best fishing trips in the state. With us as your guides, you will get everything out of your vacation that you desire. Because we specialize in guided fly fishing trips in and near Kalispell, Montana, we are considered experts in guided fishing trips.
Book A Fly Fishing Trip In Kalispell
Whether you wish to book a half-day, full-day, or multi-day fishing trip, Montana Fishing Guides has something perfectly planned and available for you. Montana is famous for fly fishing, and Montana Fishing Guides is famous for guiding. Leave your vacation to us and you'll want to return to Montana again and again to fly fish its beautiful waters.