December 13 Ice Fishing Report
Christmas is just about a week away and winter feels like it is moving right along. The last few days it has been cloudy, not much sunshine, and not too terribly cold. Highs in the mid to upper 30's with lows at night in the teens and low 20's. it looks like we might be getting some snow, highs in the 30's and lows in the 20's. This is shaping up to be a pretty good ice fishing season. There is good ice in a lot of places right now and the fishing is pretty good.
December 13 Ice Fishing Report, Flathead Valley
The last week I've been focusing on finding some bigger cutthroat and Grayling. It's been pretty productive on the ice. It seems that I've been fishing in the deeper stuff and not finding much fish in the shallow water. Some days the bit is solid and the next it's a bit more finicky.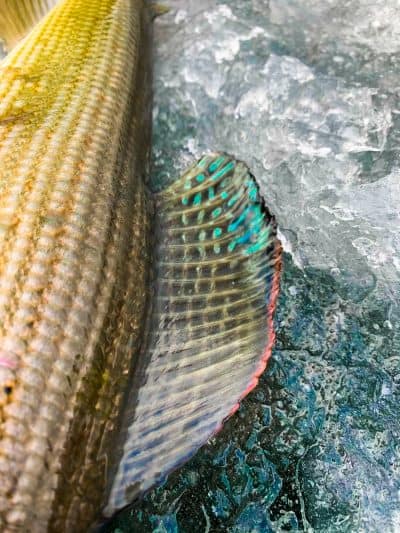 Dead sticking has been productive, slowly lifting fish off the bottom has been productive, small little jigs will get some fish to eat and the Jaw Jacker has been effective some days. The most effective jigs have been bare jigs with maggots on them. It seemed that the trout were not really interested in the plastics… Till today, that's all they would eat today for me.
December 13 Ice Fishing Report, Holiday Forecast
The holiday season is a great time to get out on a guided ice fishing trip. Take a break from skiing one day and go enjoy a day on the water catching fish. Guided trips include all the fishing equipment you need. High-quality ice rods from Clam/Jason Mitchell, quality reels from Shimano, Eskimo Ice Huts, a heater to keep you warm in the hut, and high-end Humminbird Ice Helix and Gamin ice fishing electronics. How about some hot chocolate and soup to warm the soul? Guided ice trips are $275 for 2 angler and $50 a each additional person with no limit on group size. Give Montana Fishing Guides a call and we'll get you out for a fun day of ice fishing!