December 26 Fishing Report
The Flathead Valley has had some great ice conditions the last few weeks along with really good fishing. Things have gotten a bit colder, some snow and the ice is getting thicker. Most places have 8-9" of nice clear ice. Still, proceed with caution and make sure you a re on safe ice. There are still places that I wouldn't go out on due to unsafe ice. The Flathead River has also been giving up a few fish but I would still say it's kind of slow and it might be better " Catching" through the ice. Temps are going to be in the '20s and teens at night and low 30's in the day.
December 26 Ice Fishing Report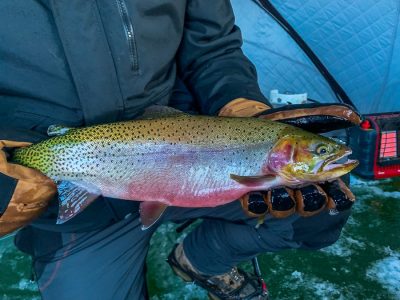 Ice fishing has been solid this last week. I've been seeing lots of great cutthroat trout and grayling come out of ice holes. Some days more trout and some days more grayling. I would say that the trout and grayling have been pretty active too. Lots of fish moving in the water column and willing to eat with the right stuff on. Some days more refusals but just work through the refusals with jig and plastic changes till you find something they will eat. The dead stick has been good as has lifting the fish up with very short jigs. It seems that you always have to work through jigging techniques to get them to eat it too. If you are getting refusals… Change it up. Either your presentation or what you're offering them.
December 26 Flathead River Fishing Report
the Flathead River is flowing at 3670 CFS and temps are peaked at 36 today. Yesterday afternoon I saw some fishing rising in the lower river and I think they were very catchable. Nymphing is still your best bet… Pink worms and pink scuds are what they'll eat. Get deep, fish heavy, and get a good drift.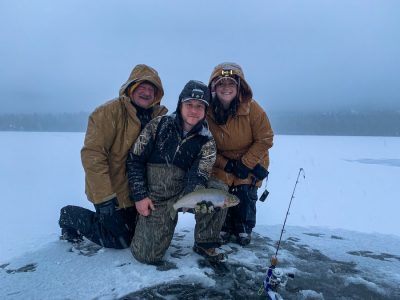 Have you always wanted to ice fish? Don't know where to start? Looking for a fun day with the family? If you're looking for a fun day on the water look no further! Montana Fishing Guides has you covered. From guided ice fishing trips to guided fly fishing trips… We will show you a good day on the water. Give us a call anytime! 406-233-9001. My phone is on 24/7 and 365 days a year!