Fishing Boat
It's a tool that I spend probably 250-275 days a year in. I've been in a fishing boat or two so I thought I would talk a bit about what makes my perfect fishing boat? Reliable, inexpensive to maintain, effective tool for the job, and well… a good looking fishing boat.
Reliable Fishing Boat
As a fishing guide, I must have my fishing boat to work. It's gotta be ready to roll every day and not fail me on the water. Most of my days are on a river and I do not need a motor on my fishing boat. In this scenario, my perfect fishing boat is a drift boat. Drift boats are typically unpowered and oars are used to move the boat, a seat on the bow and stern with a rowers' station in the middle.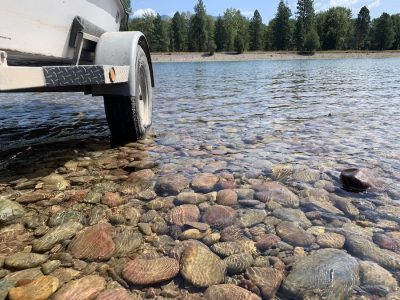 I've run a number of different drift boats but the most reliable fishing boat I have had is my Adipose Boat Works Flow Skiff. I have had an Adipose fishing boat for probably 8 years, and knock on wood, it has never failed me… Not once… I really hope I didn't just jinx myself. In those 8 years my fishing boat has had thousands of days on the water and who knows how many anglers have fished out of her. I've worn out seats, pedestals, rubber mats, oarlocks, and even broken an oar or two in my fishing boat. These parts of the fishing boat are consumable and I expect them to wear out over years of use but the fishing boat itself is still there and rock solid. A solid trailer is the second part of a reliable fishing boat. Most trailers are solid and will last for years, but wheel bearings are the weak point of every trailer. Change those bearings once a year, keep grease in them, and your good to roll.
Fishing Boat, Inexpensive to Maintain
Have you heard the old joke… What does BOAT stand for? Break Out Another Thousand. That's the scenario you want to avoid when you're getting a fishing boat. Just when you got everything ready to roll… Something goes wrong and the engine won't start…. Or something breaks. Typically new boats are inexpensive to maintain.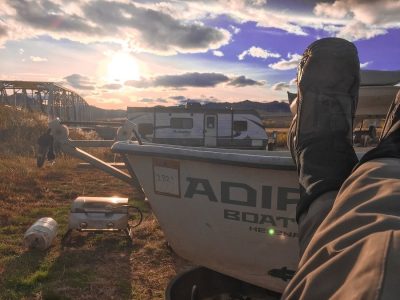 Get it new and you don't have to worry about any deferred maintenance issues that are building up. This is especially true with fishing boats that have engines. Last spring I bought the jet boat that I have been waiting for years. It ran great, rowed great, and was set up really nice for what I wanted. I bought it used from what I thought was a fairly reliable source and went on my way. After a trip or two on the water, I started to have issues with the engine running and starting. I tried a few things to make it run better but eventually, she died on the water one day. Luckily there was someone close by to tow me in. I took the boat to my mechanic and it turned out that the compression was really low in one cylinder and off on the other two.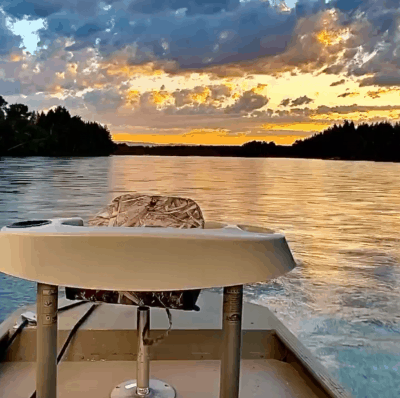 The Cylinders were scored and needed to be bored out. Without going into great detail about this… I learned a valuable lesson that day. Whenever you are buying a fishing boat with a motor you should definitely have it checked out by a Marine Mechanic. A simple compression test would have given me a heads up on this issue. Also, the mechanic would have noticed that the oiler was adjusted to wide open to dump more oil in the cylinder to help boost compression. Always have a mechanic check the engine before you buy a used fishing boat. After breaking out a few thousand for a complete engine rebuild I now have a "new" motor on my fishing boat. Lesson learned. 
Drift boats are very inexpensive fishing boats to maintain. There is not much to go wrong on these fishing boats. Oarlocks last forever, oars will last until you break one or lose them. Seats and pedestals are a weak point on drift boats. You'll want to make sure that they are solid and not falling apart. Check the bottom out and make sure there are no cracks in it, check all the corners of the boat, and make sure there are no cracks in the fiberglass in the corners.
Fishing Boat, Right Tool For The Right Job
There is no one perfect boat for all types of fishing. You can run a 21' center console down a freestone river and expect to effectively fish the river. You also would have a hard time fishing out of a drift boat in the ocean. I've had more than one fishing boat in my time but now I've settled on 3 boats to cover all my guide fishing boat needs. 
My most used fishing boat is my 16' Adipose Flow Skiff. I can say enough good things about this fishing boat. This low profile skiff does amazing in the wind, tracks amazing, rows like a dream, and handles bigger water like a champ.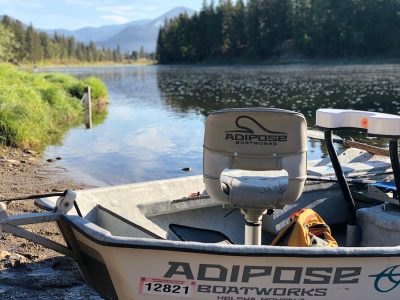 For the angler this boat is very comfortable to fish from, adjustable and comfortable seats, nice thigh brace to lean against when on your feet, room in front of you and to the sides with nothing to snag your fly line on. As a guide, I need a fishing boat that is easy to work from. No struggle to do your job quick and easy… This boat nails it in this area too. Rod storage is directly to the right and left of the rower. Place the rods in the recessed tray and you're good to go. No more pushing and pulling at weird angles and trying to push your rods in a goofy tube. Rod storage is a no brainer. The rower's station is comfortable and roomy. If I had to pick one of my fishing boats it would be my Adipose. 
Your fishing boat also has to be fun, you should really look forward to being in it and fishing out of it. My favorite fishing boat is my 1646 Skeeter 60/45hp Jet Boat. It's set up with oarlocks, oars, a big cooler, front and rear thigh braces, nice seats for clients, sweet aluminum floor, custom cut out rear bench, bow anchor system, and has a 1999 60/45 Merc 2 Stroke on the back. This fishing boat is super fun to run on the river or lake and fish from. It moves out pretty quick at 28mph upriver and 34 downriver. This fishing boat is the right tool for fishing for smallmouth on the Clark Fork River, fishing for cutthroat trout on the Flathead River, fishing for lake trout on Whitefish Lake, fishing the lower Flathead River for pike, Crappie, and duck hunting. I waited for years to find the perfect jet boat for my needs and she fits the bill. My jet boat is my favorite fishing boat.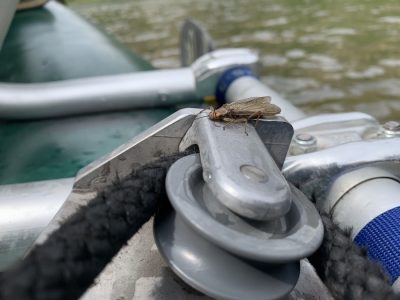 What's my third fishing boat? My last but not least fishing boat is an Aire Super Puma raft with a fishing frame. I run this boat on smaller water or water that is too rough for the drift boat. Some spots on the Clark Fork, Blackfoot, and a few other spots. If you were a river angler and wanted to get only one boat… This would be the fishing boat to have! You can run a raft anywhere. Big water, small water, and lakes. It really is a fishing boat you can use anywhere. Comfortable seats front and back with an elevated rear seat. The elevated rear seat makes it soooo easy for the angler in the back of the boat. No more sitting on the tube, low to the water, and trying to cast from an awkward position. Now your seat is forward, nice and high with plenty of room. 
So there you have it… My thoughts on the perfect fishing boat!