Fishing Report, April 14
We are back to a pretty normal Montana Spring right now… Some days it's cold and some days it's a bit warmer. Snow here and there with a smattering of sunshine. This weekend we are going to see some warmer temps on this side of the divide. Sunshine and almost 60 by Friday and Sunday, then early next week we may see some rain. The east side of the divide is looking pretty awesome too… Same trend but closer to 70 by Monday. The weather will defiantely be cold again. I'm sure more snow and rain headed our way. All in all, our rivers are fishing great and trips have been super fun.

Fishing Report, Whitefish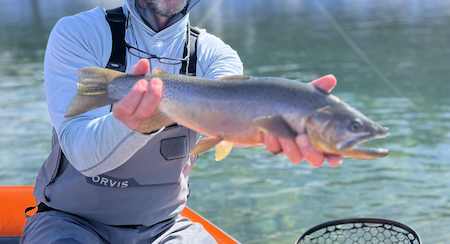 The Flathead River fished well last week. Flows are steady, water temps are trending up and it's been giving up some nice fish. We are starting to see some smaller rainbows in the river, which makes me think some more fish are filtering out of the lake and into the river. If we got a push of water more fish will be moving up the river too. I would expect a small push of water by the middle of next week if we get this rain that's in the forecast. Nymphing has been the most productive with worms and girdle bugs being the most productive. Streamers are also getting a few fish here and there. The Flathead River is not far from Whitefish so it's an easy trip if you're looking to get on the water.
Fishing Report, Kalispell
The Flathead River is also very close to Kalispell, maybe 15-minute drive from most places. The Clark Fork River is about 1.5 hours away and fishing great. We've been getting some nice fish on nymph rigs with worms and Girdle bugs getting chowed. How about dries? Yup, some days yes, and some days no… A mixed bag but as the weather warms up I would expect it to get better and better. More bugs = more dry fly fishing.
The Flathead River is also a good option from Kalispell, it's about 15 minutes from most places in Kalispell.
Guided Trips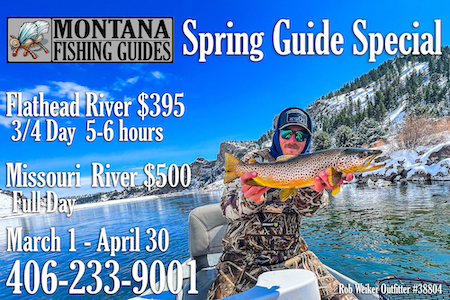 Montana Fishing Guides Spring Guide Special is happening until the last day of April. 3/4 days on the Flathead River and full days on the Clark Fork and Missouri Rivers. It's a great way to save some money and enjoy a fun day on the water. Give a call anytime, 406-233-9001, the phone is on 24-7