Fishing Report, April 19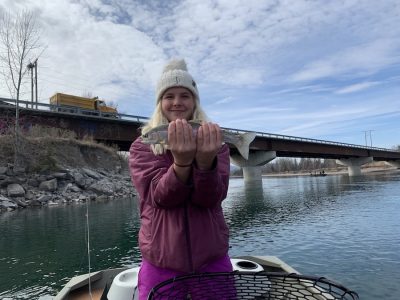 Spring is still here in typical Montana fashion… Warm one day then snowing the next, few more days of sunshine then snowing again. With that said the fishing has been really good. Local lakes are starting to pick up, the Flathead River is giving up some fish on dry flies and the Missouri River is fishing really good too. The Flathead River is flowing at 7750 CFS and is on a slight rise, water temps are peaking at 45 on the warmest of days. The Missouri River is flowing at 3800 CFS and holding pretty consistent. Water temps are peaking at 44 on the warmest of days.
Fishing Report, Flathead River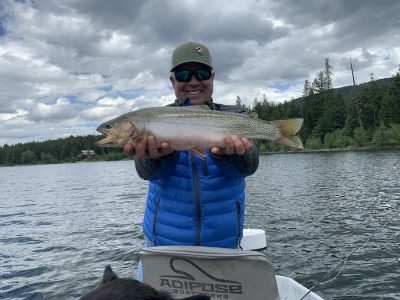 The Flathead River has been fishing pretty good on most days. Sunny days are the best for sure. Warmer temps are getting the bugs moving and fish looking up. BWO's, little stoneflies and a few March Browns on the water are defiantly getting noticed by the fish. Bigger chubbies and the good old purple haze are my go to dry flies this time of year. Fish won't be everywhere but they will eat your dries when you find them. Riffles are productive as well as some A+ banks on the river. I would expect the river to keep fishing well as long as the river clarity is there. 2-3 foot or green is still plenty. Once she goes brown then probably think about a lake.
Fishing Report, Missouri River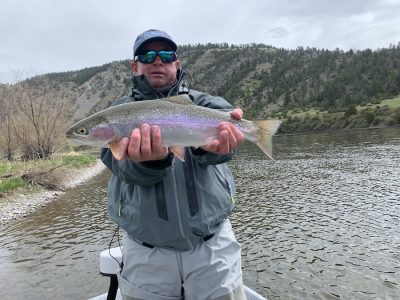 The Missouri River is fishing great right now. Nymphing is good pretty much the entire river. The new news on the Missouri is the bug activity. BWO's are on the water and some days they are pretty thick. Are fish on them? Yup, some days there are lots of fish eating in riffles and slower seam lines. With that said there are lots of smaller fish eating on top. Take some time and look for those bigger fish. You know the ones… Hard to see and don't make a big signature like the little guys… Take some time and do some looking if you're a sniper with a dry fly rod. Or.. .You could blind fish a chubby and get some chugs? Some days are better than others, one day you might get good numbers of chugs and others you might get your a$$ handed to you. The chug is the drug…
Spring Guide Special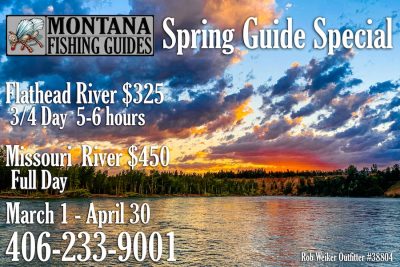 Just a few more days left of the Spring Guide Special. Flathead River 3/4 day guided trips are $325 and full day Missouri River trips are $450. Give us a call anytime and we'll get you set up for a fun trip!