Fishing Report, February 11
Montana has been pretty cold the last few days. 0's in the morning with highs in the teens during the day. Most of the really cold weather is past us as we are looking at a warm-up after the weekend. Next week we are looking at highs in the 30's and it'll feel like summer again in no time. How has the fishing been in all this cold? Pretty good! We've been doing trips for perch, rainbow trout, and Lake Superior Whitefish.
Fishing Report, Kalispell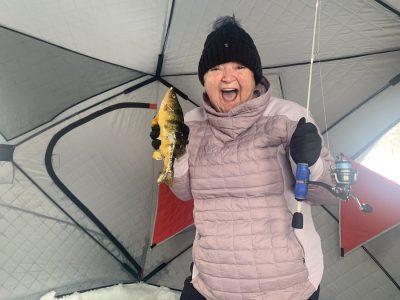 In the Kalispell area, I've been doing trout and perch trips. February has been a weird month for perch… Some days it's really good and some days it's really tough. The perch are definitely starting to think about spawning. The perch we've been catching are fat and starting to get colored up. Super bright orange fins, with deeper greens and yellows in the body. This time of year you do have to move a bunch to find the bigger ones. The smaller perch seem abundant but the bigger spawning age fish are a bit harder to find. Drill lots of holes and keep looking for them. Don't get stuck in one spot… Keep moving.
Fishing Report, Whitefish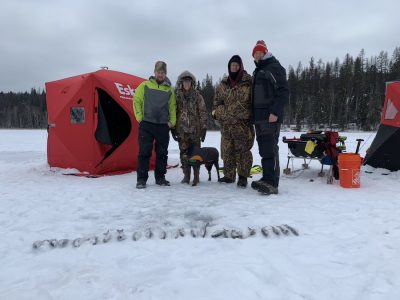 The lakes closest to Whitefish have been producing perch, sunfish, crappie, and Kokanee Salmon. Kokanee has been the most productive. Targeting them suspended in deep water is the ticket. Swedish Pimples with droppers on them are very effective. For droppers, I'm using zebra midges and mayfly patterns. On really cold days Kokanee are a good option as we can stay in the hut and not move around a bunch. We can fish in an ice house with a heater going to keep everyone warm and comfortable.
Fishing Report, Bigfork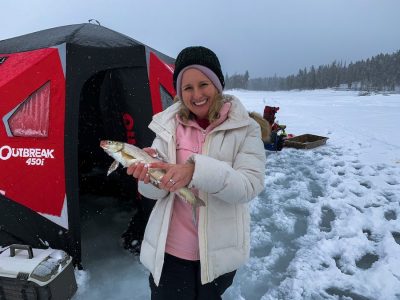 What's the game near Bigfork? I've been liking Lake Superior Whitefish. Whitefish are fun to catch, hard fighters, and taste great! Fishing little perch colored jigs are very productive. I've had the best luck on 4-5mm perch colored jigs tipped with maggots. Typically while fishing for Lake Superiors you'll be sorting through perch. Usually the little ones but they'll keep you busy catching fish.
Guided Ice Fishing Trips
Montana Fishing Guides offers guided ice fishing trips in the winter months. We keep you warm, comfortable, show you how to use ice fishing specific electronics, jigging techniques, hooking, and fighting fish, we'll clean your fish, give high fives, and send you home with some fish to eat for dinner! We are out guiding every day and know where to go to put you on fish! Give us a call and we'll get you hooked up with a fun day on the ice! 406-233-9001, you can call 24-7! The phone is always on!