Welcome to Montana Fishing Guides fishing reports! This is the first report I've done on the site and plan to keep them coming. A couple of times a week is the plan. I'll be doing fly fishing reports on the rivers I'm guiding on but I'll also be doing ice fishing reports. The weather is just coming around and the rivers are starting to pick up so stay tuned for a river report next week. Since ice fishing is what I've been doing the most of… The first fishing report is all about ice fishing.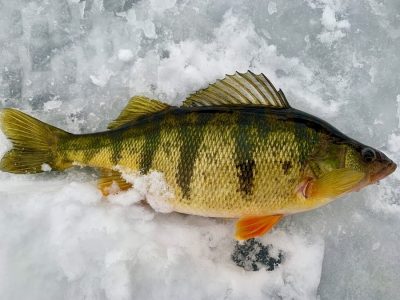 This winter has been an easy one so far. Warm days, no artic blasts or super windy days. Lots of folks think that there is no ice out there and it's not safe for ice fishing. For the most part that's just not true. There is a lot of solid and safe ice out there. A few of the bigger lakes have unsafe ice but most of the smaller lakes are solid and fishing well. Ice fishing for perch has been really good this year. As we roll into February the bigger perch start to show up. What's a bigger perch? 11"-13" are good sized. Lately, I've been fishing crawfish patterns for perch. Being the forage fish they are a crawfish is what those bigger guys will eat. It seems that the smaller perch can't get their mouths around the crawfish, so you won't get as many perch, but you'll get bigger perch. Look for the bigger fish to come out and play as we move through February and March.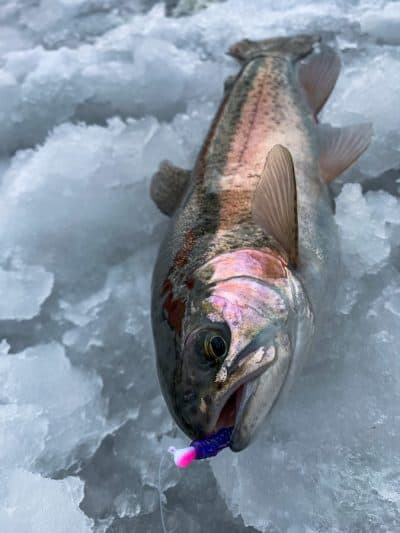 Ice fishing for rainbows is solid. Some days they want to eat your stuff and some days you end up with a lot of refusals. Just like with fly fishing you have to work through your refusals and find something they like. One day it's fishing a deadstick and the next they want an active jig. Lately, balanced leeches are getting eaten pretty well. I haven't been using spoons much and I've been leaning on plastics. Size 10-12 tungsten jigs with some sort of smaller plastic. Pinks have been good the last few days and purples were good a week ago.
Let's hope old man winter sticks around for a few more weeks! We need more snow in the hills and water in the rivers. Ice conditions should be good for a bit if things stay cold. Guided Ice Fishing trips are a great way to check out ice fishing for the first time. Ice houses to stay warm, electronics to help you catch fish and rods to use and check out. Give us a call and I'll get you on the water catching fish!