Fishing Report, February 3
The last week has been a fishy week in the Flathead Valley. The river has been fishing good and the ice fishing is still going strong. The weather has been fairly warm but still cold by most standards. I think we saw 44 a few days ago and the sun even poked its head out for a few minutes. It does look like we are going to get some snow and cold in the next 7 days. Cold nights and cold days will help bring some more lakes in the valley online. Montana Fishing Guides has been taking guided ice fishing and fly fishing trips daily. Fun times for everyone… unless you're fish!
Fishing Report, Flathead River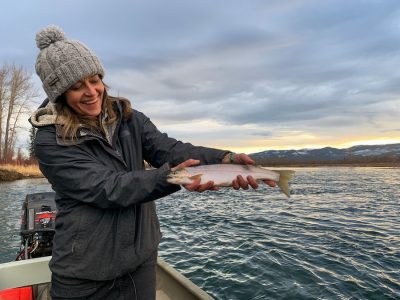 The Flathead River is flowing at 6300 CFS and holding pretty steady. Temps are peaking at 37.5 on the warmest days. The river has a slight green to it but plenty clear. Nymphing is definitely the most productive. Pink worm is getting most of the trout with pink scuds getting the whitefish. Find that 9′ of water that's moving along quicker than you'd think and you'll find fish. Some decent fish too! Winter is always a mixed bag on the Flathead so it's hard to complain about small fish… But the bigger ones are around right now.
Ice Fishing Report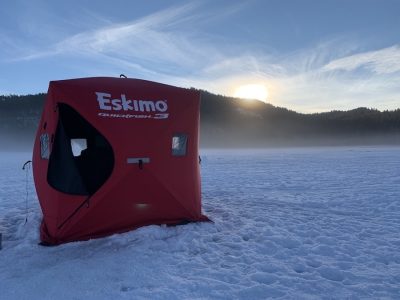 Ice fishing trips have been pretty solid the last 2 weeks. I've taken trips for trout and salmon. The trout game is good as long as you get the hooks in them while they are willing to eat. Early mornings have been best for me and it gets slow around 10:30ish. Spoons have been the best producers for me… Smaller spoons tipped with maggots are getting eaten. Most of the trout I've been seeing are good sized and go back in the lake to catch another day. If you're looking to keep some fish, then Kokanee Salmon are what you should target. Salmon have been active in the am and tail off around 12:00. Although the last few days they have been eating through the afternoon.
Guided Fishing Trips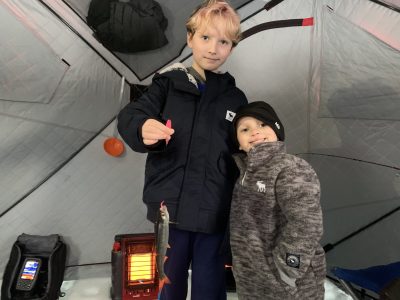 Montana Fishing Guides does guided ice fishing and river trips this time of year. When it's too cold for the river we are on the ice… When the river looks good we'll take you to the river with a fly rod. Bring the family, a friend, the wife, kids, or your buddies and we'll go have a fun time catching fish! Give a call anytime and we'll set up a fun day! The phone is always on so give a call to set up your next fishing trip – 406-233-9001