Fishing Report, February 4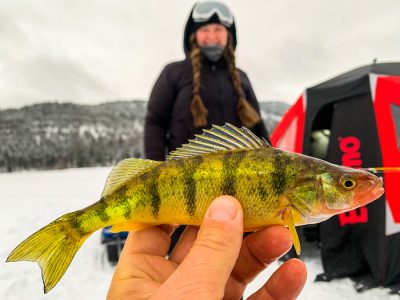 The ice fishing the last week has been very good. We've been targeting Kokanee, bluegill, perch, and crappie. Kokanee and crappie have been very active in the mornings and evenings. Perch and bluegill have been pretty active throughout the day.
Fishing Report, Whitefish
The lakes in the Whitefish area have been fishing pretty well. Kokanee have been very active in the mornings. Sometimes it takes a bit to get the kokanee to stay in your area and hang around. Chum is the key… It slows them down and keeps them in the area. Active jigging has been bringing them in but the deadstick has been the key to getting eats. I've also been running into some really nice perch a little north of Whitefish. Darker jigs and plastics have produced for me. Smaller perch are staying tight to an area but the bigger ones seem to be roaming in packs. Find that highway and you'll find some nice perch.
Fishing Report, Kalispell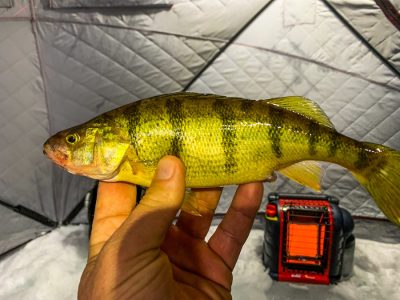 Lakes near Kalispell have been giving up some nice bluegill, perch, whitefish, and crappie. If you're a crappie slayer you should be heading out right around dark… Evenings and mornings are pretty active. A few places have been giving up some nice bluegill and perch. What's the story with Whitefish? They have been a little elusive so far this year. One day it'll be good then the next week it'll be refusal city… All-day long. We're giving the whitefish a break so they can forget about us when we come back to pick on them.
Guided Ice Fishing Trips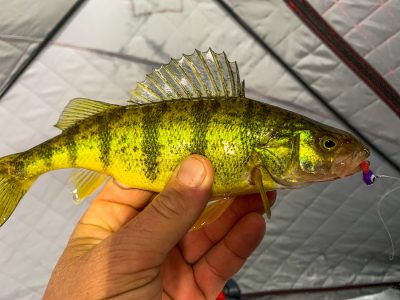 Montana Fishing Guides is on the ice every day taking people fishing and showing them a good time! From calling to book the end of the trip… We are here to make your experience one you won't forget. Give a call anytime and I'll get you set up for a fun trip!