Fishing Report, February 7

Nice weather were having this week. It's pretty perfect for trips, cold at night and warm enough during the day that it's comfortable and easy to get out side and hole hope. I expect the weather to stay like this for at least the next 7 days. Will it get really cold again? It's Montana and I would assume so, but maybe not… You never know. We've been seeing good action on Whitefish Lake and north of town. Fishing has been really fun and trips are great right now.
Fishing Report, Whitefish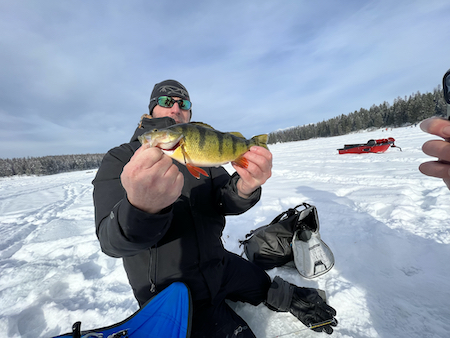 Whitefish Lake remains to be a good option for folks wanting to catch some bigger fish, Lake trout. Ice is very safe and I would expect it to remain that way for a bit. 7-9" is what I'm seeing in most places. We've been running sleds out there and getting away from the usual crowds. Fish seem to be all over the place. White is the ticket as always. Put some cut bait on the jig and you should be able to find fish. Some days they really like to chase and some days you have to finesse them to get eats. White and cut bait seems to be the ticket.
Fishing Report, Kalispell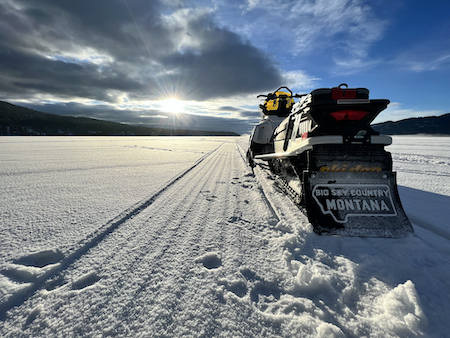 Echo lake is productive most days. Smaller perch are all over the place. Kokanee salmon are very willing to eat in the darkness and low light times. Lake Superior Whitefish and Smallmouth are around and will eat. It does seem like the Whitefish are getting tough to coax in. Lots of refusals, work through them, keep at it and you'll find the ones that will eat your jig. Refusals can be pretty frustrating but the key is to keep trying different jigs and plastics. Try different jigging patterns and see what works best. You can get a lot of good info from the refusals. You'll know what they don't like so keep giving them something different until it sticks. Blood worms are working great for me when it gets tough…
Guided Trips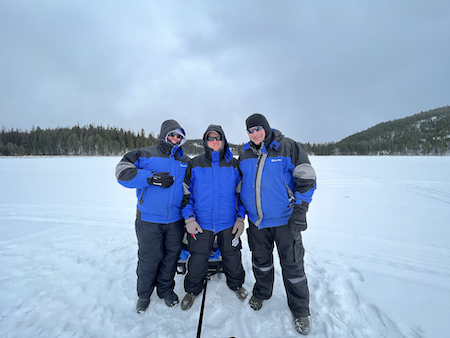 Guided ice fishing trips are all about having a fun experience on the ice. We'll keep you warm, comfortable and on the fish. We provide all the equipment and make it easy to enjoy your day. Trips are private so it'll just be you, your group and the guide. Pricing is very affordable and we can accommodate any group size. 406-233-9001, give a call anytime, I'm happy to answer any questions you have and figure out a great trip!