Fishing Report, January 13
Another great week of ice fishing and weather in North West Montana. Nights have been in the 20s and teens with daytime temps in the low 30s. Great temps for making ice and keeping everyone in their comfort zone. Fish have been pretty active lately making for nice days on the ice. The next 7 days are looking for the same conditions. I'm guessing in about 10 days things are going to start to get cold again. Let's hope we get some really cold temps and it starts dumping snow again!

Fishing Report, Whitefish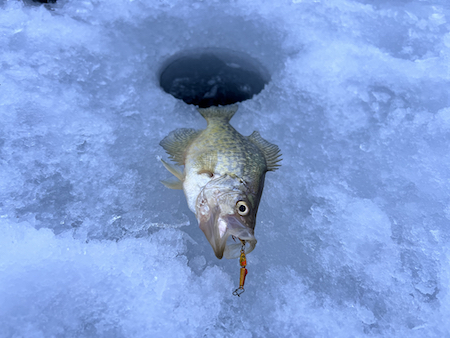 North of Whitefish has been fishing really well. Kokanee are active and fun to catch. Fishing big spoons with a dropper have been very productive. I like flashy Swedish pimples and maggots. Do some big rips to get their interest and dead stick it for the bite. Kokanee really like to chase things in the water. Get their interest with big rips and set the dead stick for the bite. My kokanee setup is a longer rod with a faster tip, braid to a fluoro leader. I really like the longer rods with fast tips for kokanee. It seems slow tips make it too hard to get that hookset. They seem like they're always just a little behind on coming tight. Perch are still active as well as pike. Some more lakes are coming online up North so stay tuned for more info….
Fishing Report, Kalispell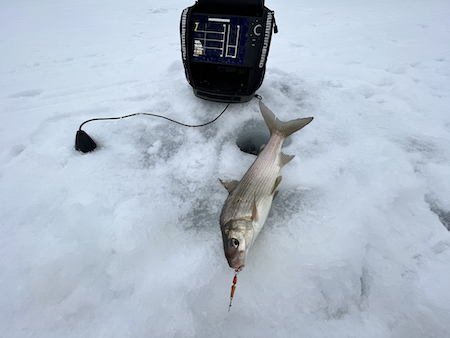 Kalispell area has also been fishing really well. Perch are active, of course…. Flathead Lake has been giving up some nice Lakers but exercise caution if you head out there. Check your ice often. 4" or more of good clear ice. I wouldn't push it too much out there. Echo Lake has been good for smaller perch and crappie. Lake Superior Whitefish have been very temperamental. Lots of refusals out there. Same with the smallmouth. If you find some magic let me know. What's the best advice for working through refusals? Keep trying different jigging techniques, change, and don't give up. Stay focused and sooner or later they'll eat it.
Guided Trips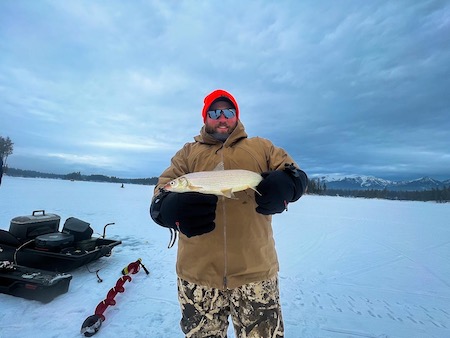 Guided ice fishing trips are a great way to enjoy a winter day. Get outside, enjoy some fresh air, amazing sunrises and catch some fish! We provide all the equipment, heated ice houses, comfortable chairs, and high-end equipment. Guides will show you different jigging techniques, how to hook and fight fish. Trips are private so it's just you, your group and your guide. Guides are fun and will show you a great time on the water. Trips are very affordable and we can accommodate any group size. If you have any questions or would like to book your next ice fishing adventure you can call, 406-233-9001, the phone is on 24-7.