Fishing Report, January 6
Another great week of ice fishing is in the books! We had some great weather, great ice conditions, and some really good fishing. Ice conditions are really good right now and we've moved to a few new lakes since they are in the safe zone. The weather for the next week is looking pretty good for ice fishing. Lows in the 20's at night and 30's during the day. It's really comfortable to fish in these temps and it's great ice making weather too.

Fishing Report, Whitefish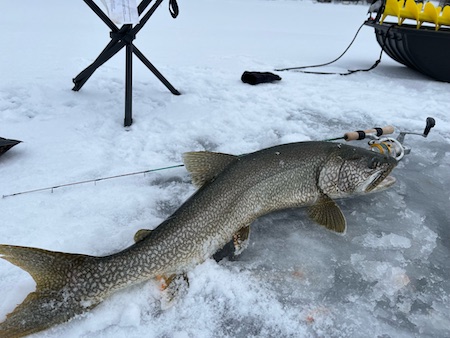 There are a number of great lakes to fish around Whitefish. North of town perch and pike are good options. Perch have been pretty active and really willing to chase and eat your jigs. Some days they're more active than others but for the most part, they're completely catchable. Pike have been willing to eat bigger offerings on tip-ups and Jaw Jackers. Beaver Lake has been really good the last few days. Kokanee Salmon are really active in the mornings. Bright silver spoons with maggots have been really good for me. Get them moving too. They'll chase your jig up and then I like to do a slower controlled drop to get eats.
Fishing Report, Kalispell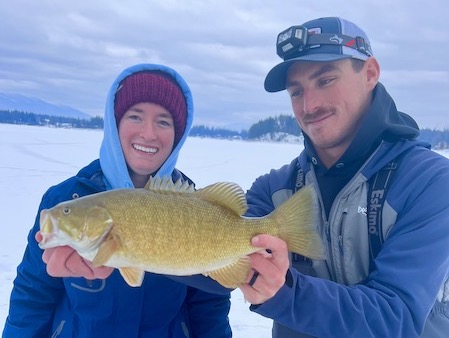 Echo Lake has been pretty good to us the last few days. Smallmouth, perch, and whitefish are on the menu. Whitefish and Smallmouth have been pretty active the last few days. Mornings are really active but we're getting a decent number of refusals. As the morning goes along activity falls off a bit but fish are more willing to eat your jigs. Today a hunk of night crawler on the jig got more attention than pink maggots. Call me crazy but it seemed to make a difference. Smallmouth are mixed in with the Whitefish. We're not really fishing them any differently than Whitefish. Echo has 7-9″ of solid ice. 4-5″ of clear hard ice with 3-4″ of white ice on top. Seems plenty safe to me. I'm thinking in about a week there will be another inch or two of hard ice on the bottom. Tune in next week for more information on Echo Lake
Guided Trips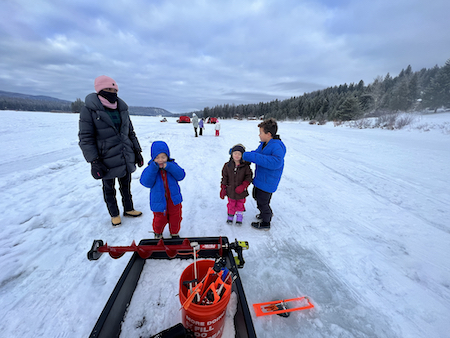 Montana Fishing Guides is guiding ice fishing trips all over the Flathead Valley. We're running trips near Whitefish, Kalispell, Columbia Falls, Bigfork, and near Missoula… If you're looking for a fun day on the ice we have you covered! We provide all the equipment, heated ice houses, comfortable chairs, high end rods, reels, and electronics. We'll keep you warm as possible, comfortable, and on the fish! 406-233-9001, give me a call anytime if you have questions or want to book your next fun fishing adventure.