Fishing Report, January 7
The last week has been really good for the ice fisherman in Flathead Valley. Cold temps have firmed up a few more lakes and more options for the ice angler. The cold weather was just in time. We've had a good amount of snow the last two days, which will insulate the lakes and snow down making new ice. Hopefully, things will stay cold and we won't get a bunch of slush on top of the new ice. The weather forecast for the next week looks ok, with highs in the low 30's and nighttime lows in the teens we should be just fine.
Fishing Report, Kalispell
The Kalispell area has been where I've been taking most of my guided ice trips. From perch and pike to smallmouth and whitefish it's been fishing pretty good. Smith Lake has been pretty hit and miss for pike with tip ups being the most productive. Perch activity has been hit and miss too. If youre having a hardtime finding the perch then consider a good underwater camera to help find them. It'sa good tool to see what they line and what they dont like. Smallmouth and Lake Superior Whitefish have also been really good the last few days. Good activity and usually lots of action. Make them chase your jigs… That has been the key
Fishing Report, Whitefish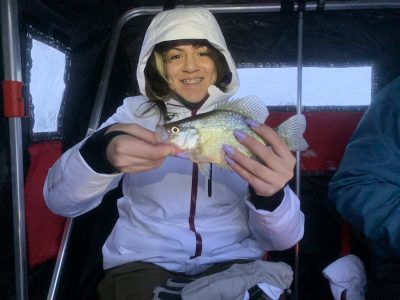 Blanchard lake has aso been providing good action. While the fish are typically smaller they are willing to eat most days. Good hard hits from redeared sunfish, crappie and perch make for a fun day. Set some tip ups for pike while youre out there. You never know out there, some big pike swimming around. If you're staying in Wihitefish, there are lots of great options for ice trips. Trips are offered North of town about 20 minutes to just south of town about 40 minutes. Whitefish is a great location for your next ice fishing trip.
Guide Ice Fishing Trips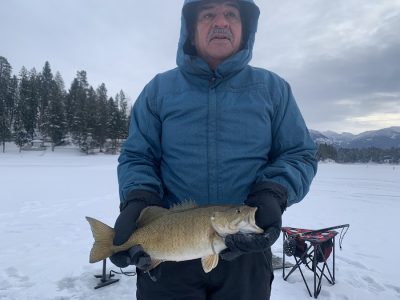 If you have never been ice fishing a guided trip is a great place to start. We provode all the equipment and make it easy for you to get out and emjoy the day. High end equipment, heated ice houses and one on one instruction is all part of your day. 1/2 day trips are approximatly 4-5 hours long and just the right amount of time to enjoy some action and not get to cold. Give a call anytime and I'll get you hooked up, 406-233-9001.