Fishing Report, March 14
Old Man Winter has lost his grip for a bit and is letting spring move in for a minute… And that feels really good right now. With highs in the 40's and 50's and full sunshine, the fishing on the Flathead River has really responded for the better. Fish are willing to eat, bugs are moving around, and did I mention the fish are willing to eat?
Flathead River Fishing Report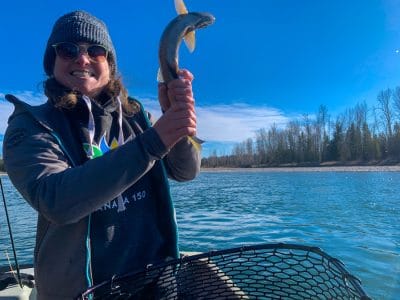 Montana Fishing Guides Spring Guide Special is in full effect right now! $325 for a 3/4 day trip on the Flathead River is hard to beat! Check out the weather forecast, pick a sunny day and go catch some fish… It's that simple. The Flathead River is fishing great right now and should only get better as we get into April and early May. Old Man Winter will definitely come back for a minute or two but that's ok. Water temps are coming up, bugs are getting more active, fish are moving and the flows are great right now. Pretty soon we will be fishing dry flies and getting cutthroat to move and eat dries. Baetis are around, midges dancing on the surface and I've seen one or two bigger stoneflies fluttering in the air.