Fishing Report, March 16
Ice fishing season is officially over for the year. Warm weather has started to affect the ice conditions and things are no longer 100% safe out there. This ice fishing season was soooo much fun and there were so many really fun trips on the ice. We are really looking forward to ice fishing season next year and more good times on the hard water. Tune in early December to see what's new on the program and the conditions on the ice. Montana Fishing Guides is still running guided trips but we have moved to the rivers and the lakes. From the local Flathead to the Mighty Missouri or Flathead Lake we are on the water taking people fishing every day.
Fishing Report, Whitefish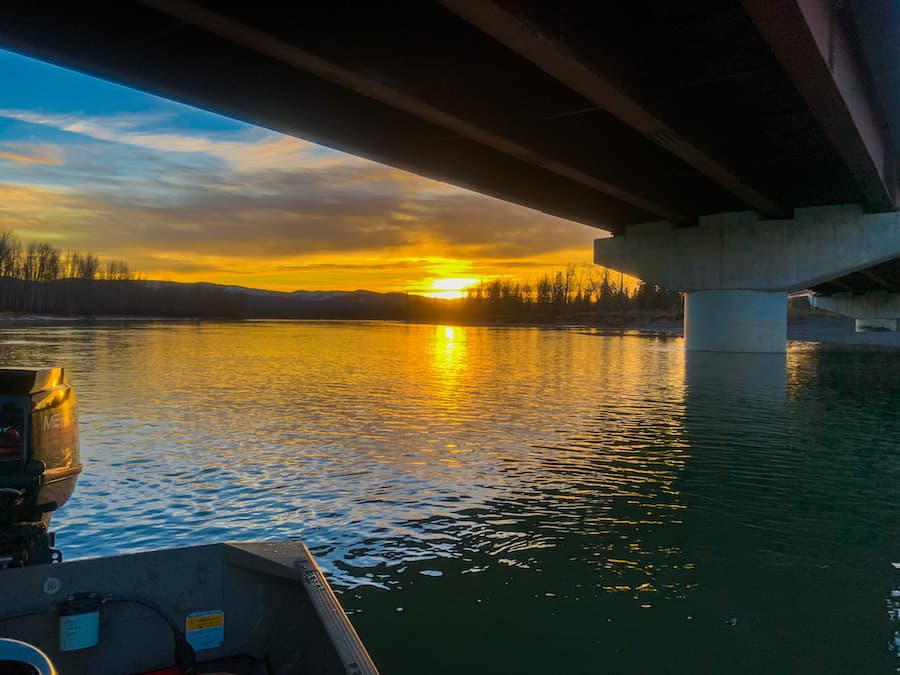 If you are staying in the Whitefish area the Flathead River is a great local option. We are doing a spring guide special of $400 for a 3/4 day fly fishing trip. All the equipment is included as well as a great guide that will teach you everything you need to know for the trip. From casting, mending, setting the hook, and fighting fish… Your guide will be there helping you along the whole trip. The river has been fishing really well lately. We've been seeing some really nice cutthroat trout the last few weeks. Spring is the time of year we see more big fish hit the net than any other time of year. We tend to get some big pushes of water in the spring and those pushes of water get the bigger fish moving out of Flathead Lake and into the river system.
Fishing Report, Kalispell
Kalispell is another great area to stay and fish out of. The Flathead River is very close to Kalispell. You can be at the river in 10-15 minutes and fishing in no time. You'd meet your guide at a location convenient to the river and where you're staying, they'd take you to the river and bring you back at the end of the trip. Montana Fishing Guides make it easy for you to get on the water.
Guided Fly Fishing Trips
Guided fishing trips are as easy as a phone call away. 406-233-9001, call anytime, I'm happy to answer any questions you have, we'll set up a date for your trip and get you all set up for a fun day on the water. It's that easy! Spring Guide Special is in effect right now. 3/4 day trips on the Flathead River are $400. Missouri River, Clark Fork, and Blackfoot River Trips are $500 for a full day. As always all the equipment is included, rods, flies, snacks and beverages, and lunches on full days.