Fishing Report, March 21
Spring has really set in Montana the last 2 weeks. The sun has been out, it's been warm with temps to 65 and the rivers are in great shape. The fishing has been solid and should only get better. A few days next week look like a spring/winter mix but that's good stuff. It'll keep building snow pack in the high country and keep the rivers full of water this summer.
Flathead River Fishing Report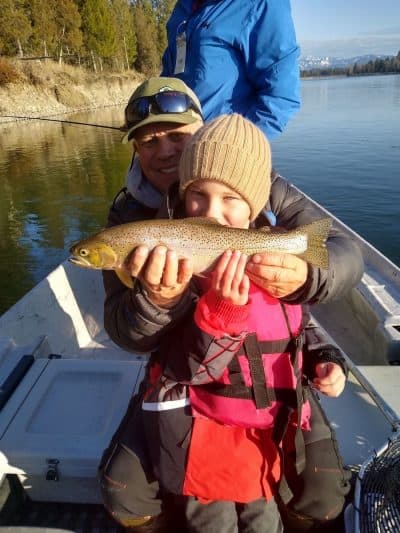 The Flathead River has been fishing sooooo good the last 10 days. Flows on the main stem are perfect, holding steady at 3700 cfs with temps peaking at 43 at the highest. Bugs are kind of around. I've seen a number of BWO's o the water, a bunch of smaller apnea stoneflies and lotos of midges. A few fish here and there rising to them… Could you get a few on the dry? I think so… You'd have to put the nymphing rod away and hold strong with the dry fly rod though. Nymphing has been really productive. Pink work reigns king right now. Long leaders and some lead to get you down in those deep runs.
Missouri River Fishing Report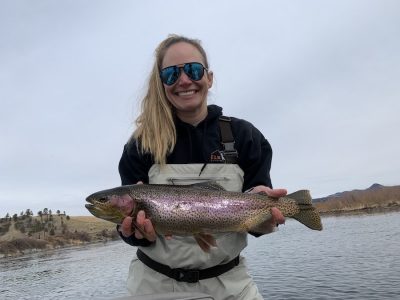 The Missouri River is also fishing great right now. Rainbows are definitely pre spawn right now. They are eating a variety of nymphs, super strong and some are getting out of the water. They are defiantly not tired worn out spawners. Full of power and will snap you off if you don't let the run. Sow bugs are the most productive with some pink wintery bugs in the mix. Streamer game is ok… White streamers are working best for me.. Some days better than others.
Montana Fishing Guides Spring Guide Special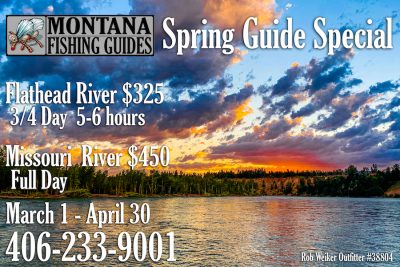 Montana Fishing Guides has your cure for Spring Fever. $325 3/4 day on the Flathead River and $450 for the Missouri River. If you're tired of skiing and need a rest day then we got you covered! Looking for something to do with the family? We can get you hooked up… How about a 2 day getaway? Let's hit the Missouri and catching fish!