Fishing Report, March 28
What a spring we are having! The weather is soooo nice and the fishing is just as good! Today it was 73 on the river and next week it's looking like we'll get some more warm days. Water temps are bumping up, flows are holding strong and bugs are starting to move around. I'd expect the rivers will be fishing great for the rest of April.
Fishing Report, Flathead River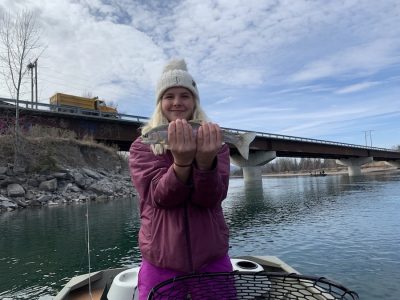 The Flathead River has been fishing really strong the last 3 weeks. We've had a few funky days but even then we're still getting good numbers of fish. Cutthroat and Rainbow Trout are on the move and willing to eat. Throw in a few whitefish and you'll have a busy day. Flows are 5190 CFS and holding pretty steady. The North and Middle Forks are on the slightest of rises but the south fork is holding steady. With the weather forecasted the next week or so I'd expect the Flathead to continue to be in good shape. Water temps are peaking at 41 on the warmest of days. Soon trout will be willing to eat dry flies. Bigger attractors and mayflies will be on the menu. I'll be sure to keep you posted when it happens.
Fishing Report, Missouri River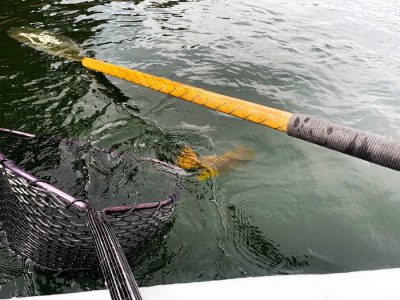 Oh boy… The Missouri River is fishing great right now. Nymphing is the most productive for sure. Firebeads and tailwater sow bugs are getting eaten. Fish deep or mid range, medium paced water or slow there are lots of fishing in that stuff right now. Dam to Mid is probably my favorite two sections. How about the streamer game? It's good for sure but you gotta play it. Fish strong and effective and you'll get some grabs. White non flashy streamers are best for me. They're in there and willing to eat. How about the dry fly fishing? Not good yet but hopefully soon. You might be able to get one or two if you're out late and the wind dies off. Midges are around for sure…
Spring Guide Special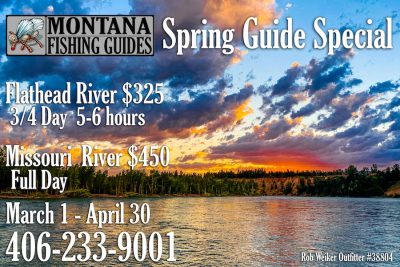 Montana fishing Guides has your cure to Cabin Fever. Our Spring Guide Special makes it easy for you to get out and enjoy the nice spring weather and great fishing we're having. The special only last until April 30. Give a call and get some before it's gone! Flathead River 3/4 day guide trips are $325 and Missouri River and Clark Fork River full day trips are $450. Give a call anytime, the phone is always, I'm happy to answer any questions and set ups fun day on the river! Montana Fishing Guides… We'll get you hooked up!