Fishing Report, March 30
With ice fishing no longer being a safe option we are on to the rivers and Flathead Lake. The local river, Flathead River has been really good, producing some really nice cutthroat and rainbow trout. The Clark Fork River is a great trip right now too. Nice cutthroat, rainbows, and the occasional brown trout it's a great change of pace. The Missouri River is still holding strong too. It's nymphing great and the streamer fishing is pretty banger. Are you a lake guy who wants to target lakers on a spinning rod? Flathead Lake has been productive using spinning gear jigging for lakers. The weather is looking a bit all over the place but hey…It's spring in Montana. We'll have some really nice dreamy days and some not so nice days.

Fishing Report, Whitefish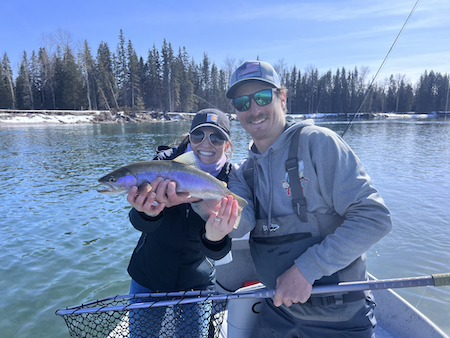 The Flathead River has been fishing great the last few weeks. Sunny days are definitely the best. Tomorrow and Friday look pretty nice this week but then some weather is going to roll in. I would expect the weather to improve by early to mid week. Flows are pretty good on the Flathead right now, 3600CFS, and holding solid. Water temps are peaking at 41 mid day. I'd be looking for bugs here before long. BWO's and March Browns are on the way, maybe even a gray drake after that. For now nymphing is a solid producer. Worms, scuds, and even little stones are getting eaten. The Flathead River is a good call right now!
Fishing Report, Kalispell
Flathead Lake is fishing well right now too. Lakers are definitely willing to eat your jig. Where? Can't give away any secrets here… Guides are out on the water almost daily chasing and staying on them so when they take you out they know where to go. It's a little tricky and techy to get good eats. Ron is kind of the master at it and will show you how it's done.
Fishing Report, Clark Fork River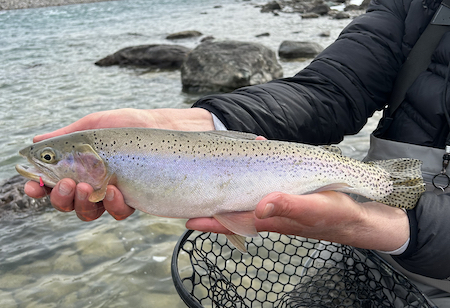 The Clark Fork River is fishing great right now. Floats more mid river are the most productive. Dry dropper all day long. It's a great river this time of year. There are not many boats on the water, if any, and the fish are willing to eat. Sure… You'll get a few whitefish but… You'll catch some really nice cutts, rainbows, and the occasional brown trout. We're not seeing many bigs other than midges but more are on the way. We have had some good dry fly days in the last week but it's pretty hit or miss. Bugs need to be out with fish keying on them. How about a cloudy day? Might be the ticket?
Guided Trips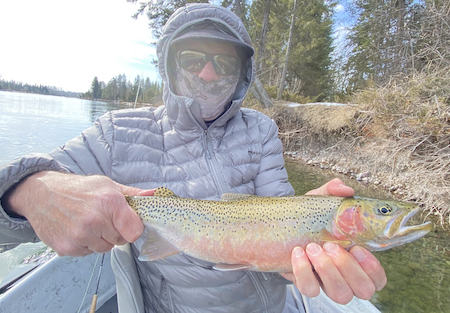 Montana Fishing Guides is doing it's famous Spring Guide Special. 3/4 day on the Flathead River for $395. Full day on the Missouri and Clark Fork Rivers for $500. Save some cash on trips are enjoy the great spring fishing we have. As always, you can call anytime if you have any questions or want to set up your next fishing adventure. 406-233-9001, the phone is always on!