Fishing Report, November 19
Ice fishing seems to be officially here. It's definitely a few weeks sooner than most years but it's here nonetheless. 4-6" of ice west of Kalispell gives some good options for a fun day on the ice. If you're looking to get on the river then Lake Superior Whitefish are still in the system as well as a new push of trout from the lake. The weather for the next few days is looking pretty chilly so the ice should keep growing. Warmer temps later next week will slow the growth but should be too much of an issue.
Fishing Report, Kalispell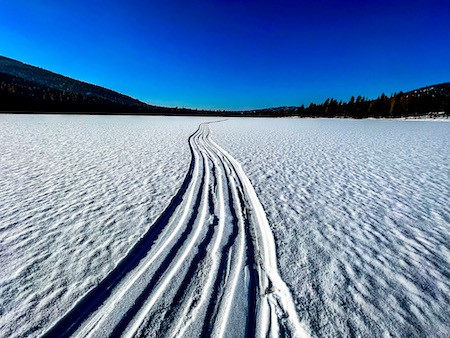 Rogers Lake was really good today. Grayling were very active and a few really nice cutthroat were willing to eat too. Getting out early was the key. Be out there in the dark for the first light. Good stuff. Be effective all the way until the light hits the ice, then things slow down. Once that light hit the ice today fish were less active and harder to find. They would still eat but it took longer for them to come around. I'm a big fan of being on the ice in the dark to be in the mix with the most activity. I really don't think it would have mattered what I was using, they seemed like they would probably eat anything. Anything with a maggot on it… Got refusals with no maggots… Got eats with maggots.
Guided Trips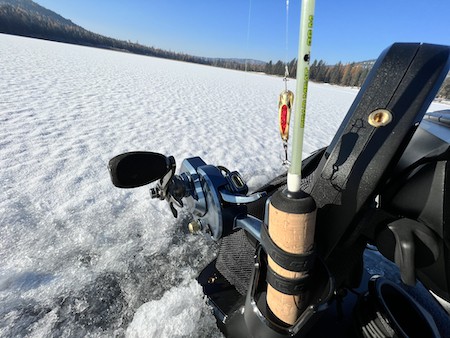 If you're looking for a fun day on the water we have a trip for you. From the river to Whitefish Lake trip to an ice trip we have you covered. Lake Superior Whitefish on Flathead River, Lake Trout on Whitefish Lake and a number of species through the ice. I am currently taking bookings for the 2022-23 ice fishing season. It's never to early to book your ice trip. All the equipment is included from ice houses with heaters to nice chairs and high end electronics… Montana Fishing Guides will show you a fun day on the ice and put you on fish! Give a call, 406-233-9001, the phone is on 24-7 and I'm happy to answer any questions you have.