Ice Fishing Report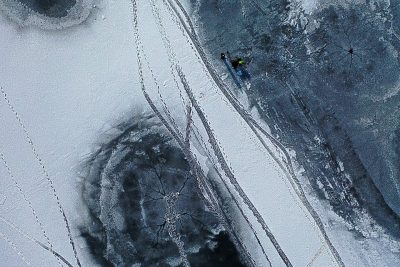 The last few weeks the ice fishing in the Flathead Valley has been pretty darn good! The weather has been nice and cold, a few sunny days, not to windy with good fish activity. One of the big questions is…
Is there any ice out there? The answer is yes! Not feet of ice but anywhere from 6-11" of good hard clear ice. While not every lake has safe ice most of the usual players have plenty and are very safe. We're looking at a great weather forecast for the next week. Day time highs in the 30's with lows in the 20's will make more ice for the next week. While we're out on the lake you can hear the cracks and groans that mean the lake is making ice.
Ice Fishing Report, Kalispell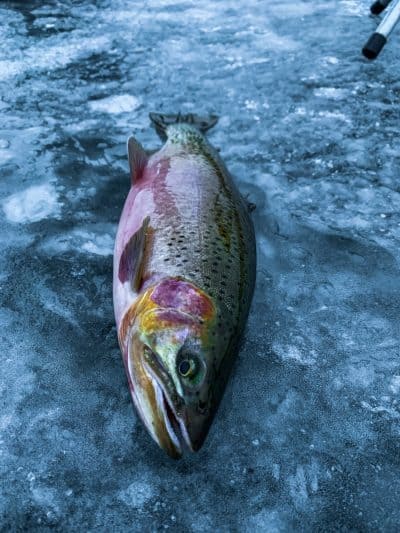 The last week the lakes in the Kalispell area have been a bit on the slow side. One day it's good then the next it's a bit tougher. Pike have been fairly active on most days and perch are hit and miss. Perch seem to be pretty finicky and are looking for some finesse… Really subtle jigs, lifts, stair step drops are helping coax unwilling fish. You definitely have to make them eat it.
Ice Fishing Report, Whitefish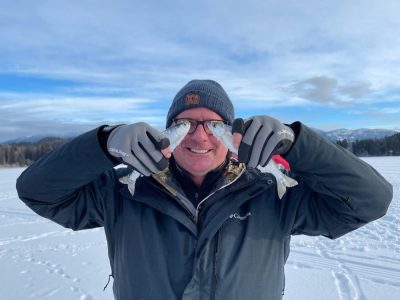 The Whitefish area has been pretty good lately. I've been focusing my trips on Kokanee Salmon. The mornings have been good with active fish till about noon. The Kokanee have been active but somedays you still have to play the game and get them to eat your jigs. I've also been fishing good numbers of Rainbow Trout swimming around willing to eat. It seems they are pretty suspended and very active. Rainbows have been charging jigs and spoons. When they show up really slow down and do smaller movements to get the eat.
Guided Ice Fishing Trips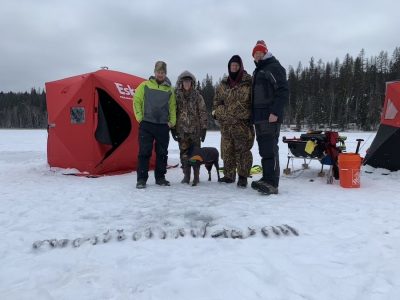 Montana Fishing Guides offers guided ice fishing trips all winter long. We are on the ice every day and know where to take your group fishing for the day. Ice fishing is fun but ice catching is way better! We fish all kinds of lakes in the Flathead, from perch, pike, rainbows, largemouth, whitefish, and salmon… We take you where the fishing is the best! All the equipment is provided, heater ice shelters, ice fishing electronics, and high end ice rods all make for a great day on the water.
Give us a call to set up your next ice fishing adventure!  You can call anytime… 406-233-9001