July 15 Fishing Report
The Flathead River is flowing at 11,000 CFS, water temps are peaking at 56, the weather is perfect and the fishing is good! This morning started a little slow but about 10:00 the bugs started to show up to the party. PMD's started coming off then there was a caddis event that got fish looking up and eating dry flies pretty good. A big Adams with a smaller caddis behind it was the ticket. Fish seemed to be in quicker water. I had been fiding some great fish in the slower buckets but not today… Or even yesterday. I'm thinking that maybe the fish are moving to quicker water and out of the slower buckets that were holding some great fish. I'm still going to be fishing some of that stuff but focusing on faster water. Banks are starting to fish good as well as some harder seams out further in the river.
I'm loving the weather forecast for the next 7 days. It's looking pretty buggy and I'm sure the fishing will be great! Montana has been kind to us with some unseasonably cooler weather this July. 70's and low 80's are perfect. Let's hope this keeps up through August and the fishing will stay strong.
July 15 Fishing Report Clark Fork River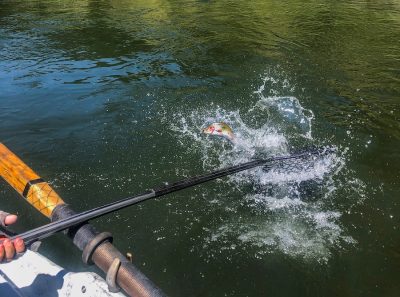 All I'm going to say about the Clark Fork is…You should go there! It's good!