July 25 Fishing Report
The Flathead River is flowing at 8340 CFS and water temps are peaking at 60 in the middle oft he day. The weather has been great the last few days, we've had a col down that has kept us at a cool 80. It looks like Monday it might hit 90 and stay there for a few days. Maybe some rain Wednesday night. It feels like summer in Montana and the fishing is good.
July 25 Fishing Report Flathead River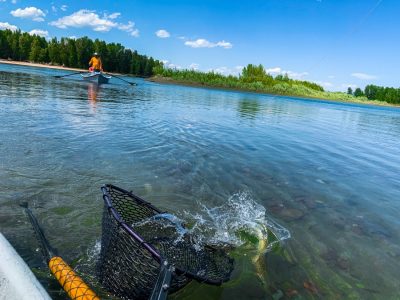 The Flathead River has been fishing well for the last few weeks. We've had some great PMD hatches, somedays it's all day long, some days it happens at 12:00… Today? A bit later. This morning was pretty good fishing dry flies then it seemed to slow down in the early afternoon. Later in the day, it has picked back up again. Fish are starting to move around a bit. I wasn't really finding fish on the banks like I was a few days ago. More fish are showing up in riffles and in the bubble lines.  Not much action in the center of the river but soon there will be fishing willing to eat out there.  Today my best bug was a purple haze and a parachute Adams. Early in the morning, a  few golden patterns got eaten.
July 25 Fishing Report Clark Fork River
The Clark Fork River has also been fishing well for the last few weeks. Even in the sun there still seem to be fish willing to eat the dry fly. I've been liking to get on the water early down there as the sun and heat really affect the river. The next few days it looks pretty hot down there so keep that in mind if you're thinking about heading that way.