July 31 Fishing Report
The last day of July and August is knocking on the door. tomorrow July will be behind us and we have all of August ahead of us. The weather has been great, a little warm in the middle of the day, cool in the morning and nights. Starting Monday temps are going to drop in the '80s and maybe there will be some clouds. All the rivers have great flows… Clark Fork, Blackfoot, and the Flathead… It's all good! 15 – 20% more cold and clean water than most years. Bugs are still coming and fish are eating them. Dry fly fishing is great and I expect it to continue…
July 31 Fishing Report Flathead River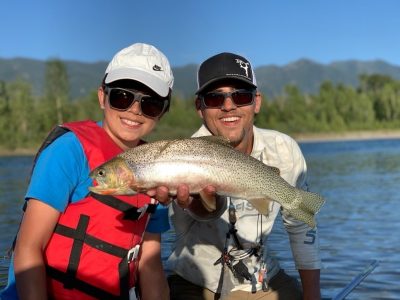 The Flathead River has been fishing great the last week or so. PMD's are coming off, caddis are getting eats and the hopper is getting chugged. I've been running a purple haze or a caddis and a hopper. Big ones… Small ones… Whatever ones you like will probably work. Fish are starting to move out in deeper water and not always on the banks. Start moving out in the deeper stuff and you'll find fish to eat your flies. Make sure you set the hook too… Don't pass up those "little fish" because they might just be big fish?
July 31 Fishing Report Clark Fork River
Clark Fork is fishing great right now too. It's hot as hell over there but fish are still eating. Look for this cool down to get them going even more. Want to fish a single bug? Roll the hopper for the chugs! They'll eat it! Hook sets are the key on the Clark For too… gotta set that hook to catch the fish. Twith that hopper and set the hook… Hopper chugs in July are awesome!