July 6 Fishing Report
July 5 and the Flathead River is flowing at 16,000 CFS and the flows are perfect! The North Fork is on the drop, the Middle Fork is on the drop and the South Fork is holding nice and steady. Water clarity is about 7-8 feet in the mornings and maybe 4 by the end of the day. The weather is also pretty great right now. SUnny and in the high 70's and mid 80's. There might be some clouds and rain on Tuesday but that's about as bad as it's gonna get.
July 6 Fishing Report Flathead River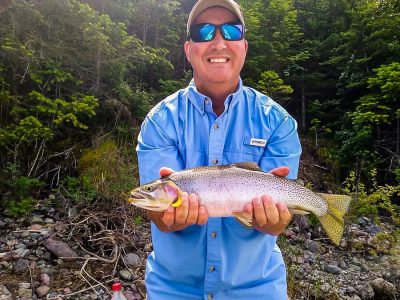 The Flathead River is fishing good right now. One day it's fishing great and the next it's a bit slower. Nothing really consistent happening right now. One day they'll eat the dry fly and the next they won't. FLows are perfect right now and the river has sooooo much sexy trout water. Diamond chop for days, riffles are getting bigger, inside corners are also getting bigger, some of the buckets are going away but new ones are popping up. Side channels are also getting really good. Just a bit less water and they'll be perfect. But let's not wish for less water… Trout like as much cold and clean wet stuff they can have. Chubbies are getting eats as well as some mayfly stuff. The mayfly stuff is not working as good as you would think but it'll happen for all you purple haze tossers out there.
July 6 Fishing Report Clark Fork River
The Clark Fork is runing at 16,000 CFS, pretty much the same as the Flathead. She's been on the drop for the last 6 day. How is it fishing? Good! Roll a chubby and go get'm! The Clark Fork is one of my favorite rivers in Montana! Want some more? Give a call and we'll head over for a fun day on the river!
Guided Fly Fishing Trips
Montana Fishing Guides is running trips daily on the Flathead, Clark Fork, Missouri, and the Blackfoot Rivers! If you're looking for a fun day on the water give Montana Fishing Guides a call and we'll hook you up! 406-233-9001