June 17 Fishing Report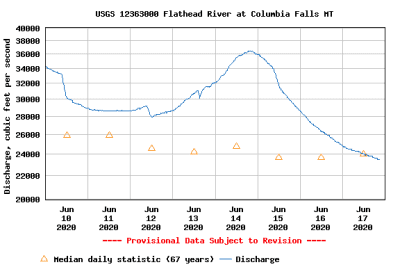 Is it June 17 already? It seems like just yesterday it was April but here we are. One more week from the Summer Solstice and hopefully a few days away from fishing dry flies on the Flathead River. The Flathead River is flowing at 23,000 CFS right now and is on a solid drop. Some rain the last few days and some more tomorrow. Then some sunshine and hopefully the river keeps dropping. June 20? That's my prediction and I'm holding to it… For now. We need about 4-5 foot of visibility before you will be able to get them on dry flies.
June 17 Fishing Report Missouri River
The Missouri River is pretty soggy right now. Lots of rain  the last few days, dumping rain right now and tomorrow it's supposed to rain all day too. Then for some sunshine for a few days. The river bumped up a bit yesterday and today. Will it come up tomorrow? We'll see but I think it will. Right now its flowing at 7200 CFS, perfect flows for right now. Cold, clean water is what the trout like! Caddis pupa and pmd nymphs are getting eaten for the nymphers. Fish the fast 4 foot deep water and you'll find fish that will eat your nymphs. PMD's have been exploding the last few days  and the trout are eating them. Yesterday they loved the D and D cripple but today they would look at any of my mayfly stuff. Caddis was the king today. Caddis in the film not those high floating ones you throw on freestones but the ones that lay in the film and are hard to see.