You gotta love May in Montana… One minute it's snowing giant flakes, the next it's sunny, one day it's sunny and 70 the next it's cloudy and 50. One thing that's for sure is the fishing, it's good… So good! The Missouri River is fishing lights out right now, the Flathead River is coming in shape and the lakes in the Flathead Valley are prime.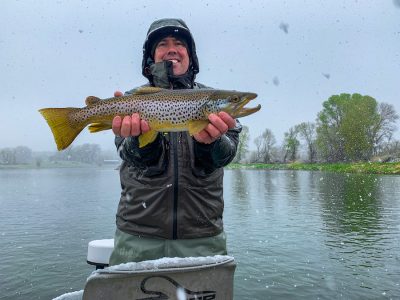 The Missouri River is flowing at 5000 CFS and holding steady. Water temps are peaking at 49. Bugs all over the place, baetis and March Browns are littering the water. About 5 days ago the river really woke up, fish moved from the slow deep stuff and are now in the Trouty water we all love. Riffles, drops, banks, toilet bowl swirls, medium deep flats and slower insides of runs. Nymphing is the most productive way to catch fish. With all the mayflies you'd think they would only eat mayfly nymphs but the sow bug is still king of the day. San Juan Worms are great lead bugs that are also getting eaten. Today to mix things up I put a little green machine in the mix and it almost out paced the sow bug. Mayfly nymphs are going to be strong payers here real soon.
How about the dry fly guy Rob? Get out there! Fish are up eating dry flies but you gotta play the game. Play the game and play it strong and you will have success. Patience is the key… look for those guys the live on the banks… The closer the better.. and the dumber and bigger they are. Parachute Adams has been my goto dry. Size 14 is money. Get a few refusals then look at your drift and adjust, no drag, fly first and right over their heads. Remember, don't make them move an inch to eat it!
The Flathead River is flowing at 21,000 CFS right now and she's a bit off color but you can catch fish. It's not great but it's not 100% unfishable. Just don't have high expectations.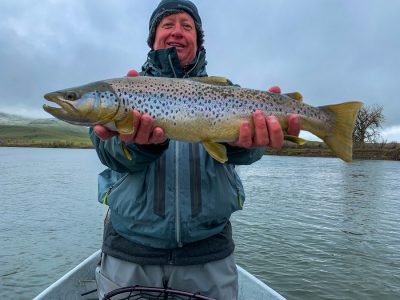 Local lakes are fishing great. We have a few sneakers that we don't talk much about so give a call if you're interested in some giants of the the still waters. Rogers Lake is fishing great right now and is a perfect half day trip. Grayling and the occasional cutthroat make Rogers a great way to spend a half day fishing. If rainbows are your idea of a good day then give me a call and we'll get you lined out on a small local lake that has some great rainbows in it.
If you're looking for a fun day on the water then give a call 406-233-9001 and I'll get you set up and on the water. All my guides are incredibly patient, professional fly fishing guides that want to show you a fun time on the water.