May 18 Fishing Report
It's the middle of May already… Where does the time go? So far this may we have had some great weather and lots of good fishing on the rivers and local lakes. The Flathead River was fishing great for about a week but now its on a big rise and muddy. Rogers Lake is fishing great for grayling and cutthroat and we have a few sneaker private lakes that are giving up some beasts!
May 18 Fishing Report Rogers Lake
Rogers lake is a cool lake just outside of Kalispell. The lake is full of grayling and has some really nice cutthroat trout. Callibaetis nymphs are effective right now and pretty soon they will be hatching and we'll be fishing dry flies. Balanced leeches and effective under an indicator or stripped along the bottom. Rogers lake is a great way to spend a half day on the water. Beginners to folks that have been fly fishing for ever love Rogers lake. Grayling pull super hard and sometimes you hook a super fat west slope cutthroat trout.
Looking for rainbow trout in a lake? We have that for you too. A trophy lake with some scrappy rainbows that love the balanced leech. You might not catch a pile of fish but you'll get some nice rainbows in a cool still water fishery. Soon the Callibaetis will be hatching and you'll have some dry fly opportunities.
May 18 Fishing Report Missouri River
How is the mighty Missouri River fishing? Awesome! The flows are perfect at 4800 CFS nd temps are peaking at 52. The weather has been great the last few weeks and is looking pretty fishy for next week. We're going to get some rain, clouds and cooler temps are forecasted for the next 10 days. This time of year you gotta love the cooler days and clouds. This keeps water temps from getting to high, bugs hatching and fish are in there comfort zone. Midges are pestering off, baetis are still around and march browns are still on the water.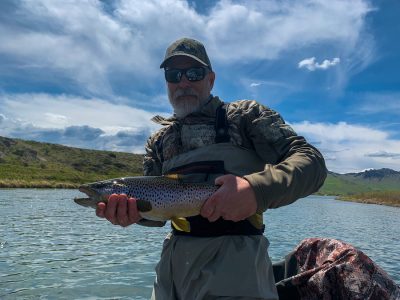 If you're a dry fly guy things are not bas right now. Clouds and light winds seem to be the key to having fishing fish. Get the right weather and you'll have some targets. While it's not as hot as PMD time you will have your chances with a dry fly rod. Sneak around, look for those noses on the banks and flats. Post up stealthily, exercise some patience, get those flies over their heads and you'll get'm! Parachute Adams is king right now…
Montana Fishing Guides
If you're looking for a fun time on the water look no further! We got you covered from the Flathead Valley all the way to the Missouri River! Montana Fishing Guides has some of the hardest working guides on the water and we'll show you a fun day!