May 23 Fishing Report
The Flathead River is flowing at 38,000 CFS, she's big and muddy. Yesterday the river started to drop a bit so lets see how long it stays on the drop. There is more snow to come down so I would expect the river to continue to be blown out for the next 3 weeks or so. That might change but it really depends on how warm it gets and how much rain we get. I'll be doing regular updates on the status of the Flathead River. For now the Flathead River is not much of an option for fly fishing. What are your options?
Local Lakes are fishing great right now. Rogers Lake just keeps getting better and better. Sunny days defiantly help right now. The fish seem more active when it's sunny out. That sun is bumping water temps up making the bugs and fish more active. Soon the Callibaetis will be hatching and dry fly fishing will be an option out there. Balanced leeches, Callibaetis nymphs, pink scuds and dragon fly nymphs are effective.
May 23 Fishing Report, Missouri River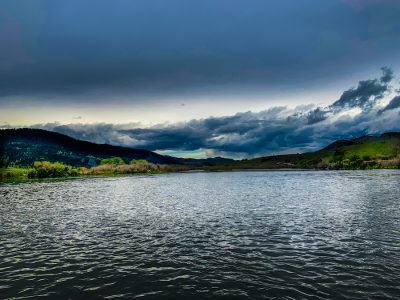 The Missouri River is also fishing great right now. There has been a bit of rain the last week or so… Little Prickly Pear Creek and the Dearborn Rivers are pumping mud into the river. Below the Dearborn the river is unfishable right now. That will change in the next few days to a week. There are 15 great miles from the Dam to Dearborn Access that are fishing great right now. The river is flowing at 5000 CF and holding steady. Water temps peaked at 52 the other day. It's a worm and sow bug game right now. Red worm and a tailwater sow bug are getting eaten in my boat.