Best Trout Rivers in Montana
Montana has so much water and so many fish where would you ever know where to start? Right here! I'm going to talk a bit about some of the best trout rivers in Montana. 
Best Trout Rivers in Montana – Flathead River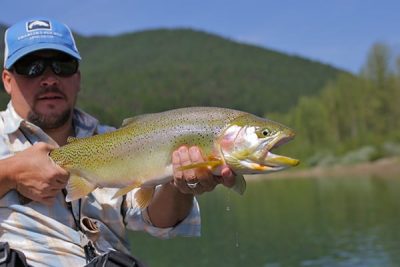 I might be parcial on this one but I think the Flathead River is definitely one of the best trout rivers in Montana. You might not catch the biggest fish of your life but you'll have the opportunity to catch plenty of nice fish on dry flies. The Flathead can be a tough river but what river isn't? Who doesn't love floating down the river, fishing dry flies, casting in likely places and actually having the opportunity to catch trout all day long? Spring has great BWO, March Browns and Gray Drakes… And sometimes they even eat the Skwalla! Summer brings Green Drakes, PMD's, Caddis, Hecubas, Ants, Hoppers, Beetles, Mohags and October Caddis. The Flathead River has plenty of bugs and fish willing to eat them. 
Floats down the river are a great way to experience Montana at it's best! The river is absolutely beautiful and it's amazing colors will have you dreaming of Montana for years to follow! 
Best Trout Rivers in Montana – Clark Fork River
When I think of famous rivers in Montana or one of the best trout rivers in Montana… The Clark Fork River is at the top of the list! Fishing dry flies to large trout while floating through an incredible Montana landscape, typically with no one in sight. Life doesn't get much better!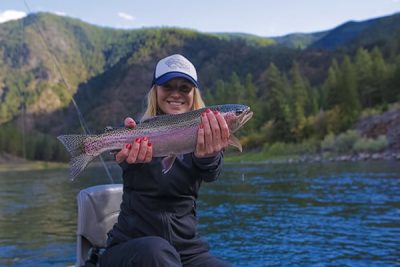 The Clark Fork river is the largest river by volume in Montana, it drains an extensive region of western Montana and northern Idaho into the Columbia River shed. The river starts at Silver Bow Creek near Butte and follows I-90 to northwest of Missoula crossing through so many small towns until it meets the Flathead River at Paradise Montana. From there it flows towards Idaho and ends up in Lake Pend Oreille. The Clark Fork River is one of my favorite rivers to guide on in Montana. Each section of the river is unique and offers so much water to the dry fly angler. 
After runoff in late June the river is all about stoneflies! Golden Stones are crawling on every willow bank you can find. Fishing your dry flies close to the willow banks is where you'll find fish. As the season continues and the flows drop you'll find fish further and further off the banks. September the river makes a big change! Fish start to spread out and you'll find them in the middle of the river, off big mid river shelves, huge bubble lines and mid river riffles. This is my favorite time of year to be on the Clark Fork. Crowds disappear, mayflies show up and the fish are eating! The Clark Fork River is definitely one of the best trout rivers in Montana. 
Best Trout Rivers in Montana – Blackfoot River
You can't have a list of Best Trout Rivers in Montana and not talk about the Blackfoot River. Huge Ponderosa Pine lined banks and tower cliffs shade the river below, bottomless dark green pools, pocket water for days and diamond chop around every corner are what the Blackfoot River is all about.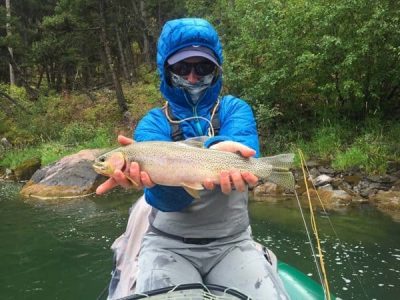 Bug life on the Blackfoot is exceptional! The dry fly season starts with the fabled Pteronarcys californica… AKA Salmonfly… These guys show up anytime after the middle of June and typically last until the first or second week of July. As the Salmonflies are waning Golden Stones and Green Drakes show up to the dry fly party. Shortly after this PMD's are popping off and Tricos are active after the PMD's are gone. Got Caddis? They're next. Hoppers and attractors get eaten during the heat of midsummer. 
The fish of the Blackfoot are amazing! Swimming up from the bottom of the river they'll eat that dry fly nice and slow… Giving you time to watch it's every movement and enjoy the event unfolding right in front of you. It's moments like this that are burned in your brain for years to come. The fish on the Blackfoot are fatter than your average trout. Big shoulders and fat bellies are what you can expect to hold in your hands. Cutthroat Trout, Rainbow Trout, Brown Trout and Bull Trout are all swimming in the waters of the Blackfoot River. The Blackfoot River is without a doubt one of the best trout rivers in Montana! 
Best Trout Rivers in Montana – Missouri River
Missouri River is arguably one of the best trout rivers in Montana, if not the best? The Missouri River, below Holter Dam, is a tailwater system with consistent flows and water temps making it the perfect environment for trout to thrive. Add that to the large numbers of trout per mile and you have arguably the most productive trout river in the country.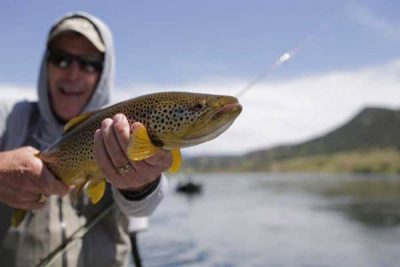 Below Holter Dam to the city of Cascade, the Missouri River boasts a 40-mile stretch, which is home to 5,500 – 3,500 fresh fish per mile. While this may not be the most isolated spot for the angler craving solitude, the large populations of rainbow and brown trout make it a destination hotspot for avid fishermen. Featuring numerous and easy public access points all along the river, you are sure to find lots of places to put in and even more fish to pull out of this stellar fishing river.
Flowing through gorgeous valleys and pastures, this pristine river is traced by views that go on forever and dry fly banks that dreams are made of. Lined with cottonwood and Russian Olive trees and rolling fields of green, this picturesque river feeds many a fly fishers' dreams. Because of the dynamic areas of the river, and myriad conditions during spring, runoff and peak seasons, this river offers every style of angler an experience of a lifetime.
The Missouri River is an absolute bug factory. Midges, BWO's, Callibaetis, PMD's, Caddis, Tricos, Brown Drakes, Pseudos, sow bugs and scuds all live in the waters of the Missouri River. Nymphing is strong almost all year long and the dry fly fishing is what dreams are made of. 
If I could only fish one river in Montana I would pick the Missouri! In my opinion the Missouri River is at the top of the list for best trout river in Montana. 
Best Trout Rivers in Montana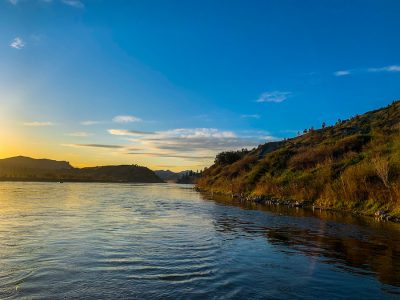 So… What is one of the best trout rivers in Montana? There are so many best trout rivers in Montana. Why do we have to choose just one? You don't! Wherever you are in the great state of Montana you are sure to find one of the best trout rivers in Montana not far away. Go fish it!