Fly Fishing Montana in June
Fly fishing in Montana in June is a tricky river to navigate but Montana Fishing Guides is here to help you navigate this moody time of year.
Fly Fishing Montana in June, Early June
Let's start with early June, let's say the first week of June… During the first week of June you can pretty much expect every freestone river and creek to be blown out and muddy. Pretty much unfishable. You're going to want to focus your efforts on the tailwater rivers that are in our great state. The Missouri River immediately comes to mind when fly fishing in Montana in June. The Missouri River is a tailwater located 30 minutes north of Helena Montana. While most rivers are blown out, muddy and unfishable the Missouri River is flowing clear and fishing great.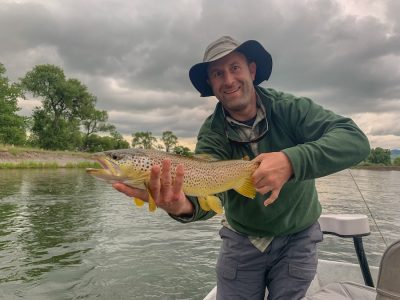 Some years the river is running high but is still fishing great and some years the river is lower and still fishing great. Even in the highest of high water years the Missouri River still fished great. When the flows gets high then it's a nymphing game. When the flows are more normal the dry fly fishing is as good as it gets.
Another great option for fly fishing Montana in June, the first week, are the lakes in the Flathead Valley. There are great options for some pretty cool lakes in the region. Rogers Lake is 25 minutes to the west of Kalispell. Rogers is mostly a grayling fishery but it also has some great West Slope Cutthroat Trout. Balanced leeches, scuds, midge pupa are very effective subsurface. Once the water temps hit in the mid 40's Callibaetis start to hatch. Fishing a parachute Adams or a Purple Haze is very effective when targetting these fish on dry flies. Most of the time you're blind fishing dry flies but there are days when you can sight fish grayling with dry flies.
Fly Fishing Montana in June, Second Week of June
Fly Fishing in Montana in June, the second week of June, the Freestone rivers are still blown out and unfishable. Once again we are back to the tailwater rivers of the state. Let's go back to the Missouri River. Historically the second week of June the dry fly fishing on the Missouri River is at it's best. Headhunting for big browns and rainbows is the name of the game. Sneaking down banks, looking for noses that are one inch off the bank is how you find the big ones. Typically the big ones are the ones that no one sees or fished to. A good rule of thumb is… the closer they are to the bank the bigger they are and the more likely they are to eat your fly!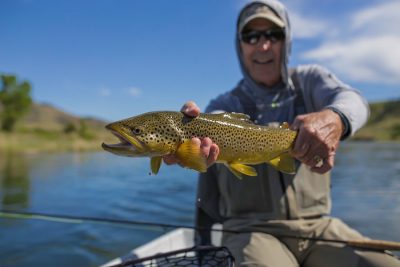 There is a caveat… You must have a drag free drift. When fly fishing Montana in June on the Missouri River you'll be fishing PMD's and caddis. Emergers, Duns, Cripples, spinners, and dead bugs should be in every dry fly anglers box. Nymphing is also very productive this time of year. Sowbugs, caddis pupa, PMD nymphs, and scuds are all very effective. Fish your bugs deep or shallow and you'll find fish.
The Flathead Valley still has some great options during the second week of June. Let's break out the float tubes and head up north! We have a great float tube program for some very special lakes. Lakes with Cutthroat Trout and Rainbow trout is what it's all about. Water temps are in the mid '40s and callibaetis are what the fish are keying on. Callibaetis nymphs are very effective this time of year and when the duns are present dry flies are very effective. Balanced leeches and midges are effective this time of year too.
Fly Fishing Montana in June, Third Week of June
The third week of June is typically a turning point on the freestone rivers in Montana. You definitely can't count on the freestone rivers being clear but some years the rivers are fishable. Typically after a normal to low snowpack and a not so rainy spring you can be on the river the third week of June. Typically this time of year you're looking for maybe 3 foot of visibility, some sort of green water and flows on the drop. While it might not seem like much, 3 foot of visibility is all you need this time of year. More important is a river on the drop. Typically when a freestone is on the rise the fishing is slower than a river on the drop. The big rivers in Northwest Montana are full of water and in prime condition. Seasonal side channels are full of water, gravel bars are underwater and water is flowing in some pretty sneaky spots. These seasonal spots are prime for early season success. Riffles are full of mayflies, banks are home to golden stones and that four-foot deep bucket holds a few fish.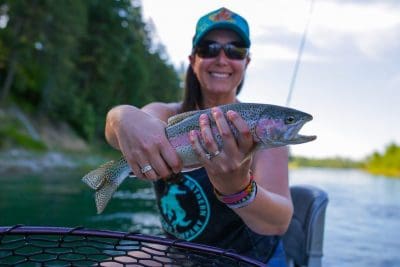 Now let's talk about the bugs you should be thinking about when fly fishing Montana in June during this third week. Let's start with the big one everyone loves to talk about. Salmonfly… The scientific name of the salmonfly is Pteronarcys Californica. Typically this fly starts to make an appearance during the third week of June. These bugs start to hatch down river and work their way up the river as the days pass. The speed of this hatch depends on a few factors. Low flows and warm weather makes this hatch move fast, sometimes it can be done in as little as a week. Higher flows and colder water slow down the hatch progression upriver. For anglers, this is the perfect scenario.
Fly Fishing Montana in June, Fourth Week of June
The Fourth of July is almost here and June is almost over… But the fishing season is just about to begin! If I had to pick a time to go fly fishing Montana in June, I would pick the third week. Freestone rivers are typically just coming into shape and the fish are eating! After a long runoff period, it seems like the fish can relax and eat with impunity. This is typically the best dry fly fishing of the season on the Flathead River. Golden stones are very active and PMD's are spilling out of the riffles. Side channels are fishing great, banks are holding fish and the days are long.
Fly Fishing Montana in June
As you can see fly fishing Montana in June can be varied, to say the least. It depends on where you are staying and what you want to do to get the most out of fly fishing Montana in June. If you are headed to Montana to fly fish in June give us a call and we can get you on the best piece of water for your trip. From lakes in the middle of nowhere to technical dry fly fishing and headhunting on the Missouri River… Montana Fishing Guides can get you on the water and fly fishing Montana in June.