Fishing Report, April 11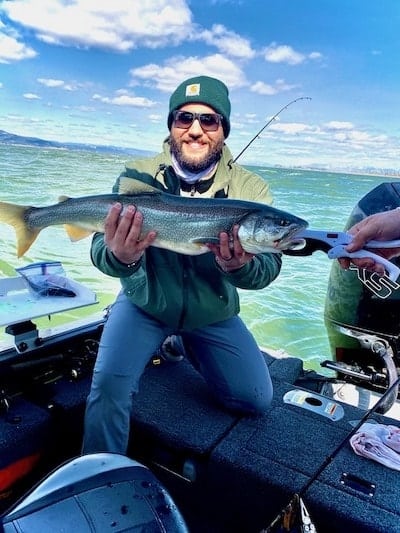 The weather has been very spring like lately across Montana. Some days it's warm and sunny then the next day it's cold and snowy. That's how it goes in Montana this time of year. At least it's not 20 below zero and snowing like crazy… The fishing continues to be pretty awesome this spring. The Missouri has been great and Flathead Lake is giving up some great fish!
Fishing Report, Flathead Lake
Most reports focus on fly fishing trips but now I'm going to mix in some conventional gear reports from Flathead Lake and other places we've been going. Montana Fishing Guides can get you on the water 365 days a year fishing with a fly rod, through the ice or on a charter boat. Super Guide Pete Jellar handles all my conventional tackle trips. He's a great guide and fun to fish with… He's also very fishy! He can get you out trolling, jigging or dead baiting for a number of species. Lately Pete has been catching bait and going on the Delta dead baiting for some bigger lakers and pike. Pete's been on it too! Doing a number of trips and putting folks on fish.
Flathead Lake Tackle Guided Trips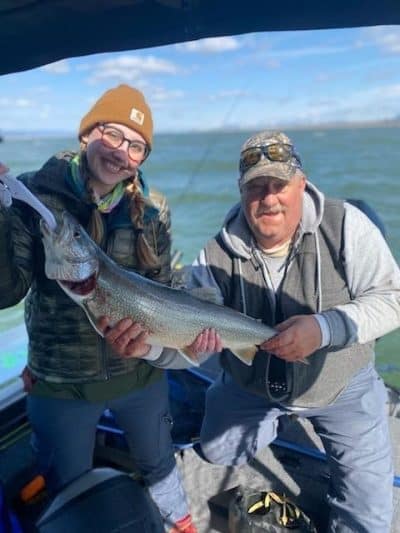 If you're looking to mix it up and chase some bigger Lake Trout or Pike, this is the time of year. Bigger Lake Trout are on the move as well as bigger pike. Montana Fishing Guides will get you set up with one of their lake guides and show you a great time. All the equipment is included as well as any bait or tackle you'll be using for the day. Guide boats are big and can accommodate 4 anglers. Guided Lake Trips are $395 for 2 anglers and $50 for each additional person, up to 4. Give us a call anytime and we'll answer any questions you have and set up a fun day on the water.