Fishing Report, March 1
I can't believe it's March already. The last few years we've had some pretty warm weather in March but this year winter seems to be holding strong. Last week it was pretty darn cold outbut it's warmed up a little bit. It's still fairly cold out and nighttime lows are in the teens for the next 7-10 days. Let's keep this iceball rolling as long as we can. Whitefish Lake has continued to fish strong! Great numbers of fish, good size, and fun days on the ice. With these warmer temps, it is so much easier to get out of the ice house and do some moving around. Somedays that keeps you on fresh fish

Fishing Report, Whitefish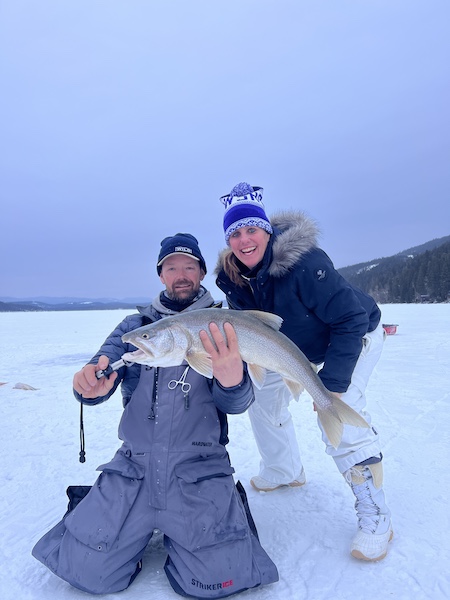 Whitefish Lake has been a solid producer the last few weeks. I have to be honest we haven't been fishing anywhere other than Whitefish Lake. Lake trout are very active and willing to eat. Some days we are getting fish in the 18-22" range and some days we're averaging a little bigger. White is definitely the ticket, then tip your jig with some cut bait and you're good to go! We've been finding fish in deeper water… 100-180 is our most productive zone for sure.
Fishing Report, Kalispell
Kalispell area has also been fishing well. Lake trout seem to be active everywhere so keep that in mind if you're looking for fish tacos. White jigs and cut bait are very productive too. Head west and look for some deeper water lakes. You know the ones… The same depths are Whitefish Lake and you'll find them.
Guided Trips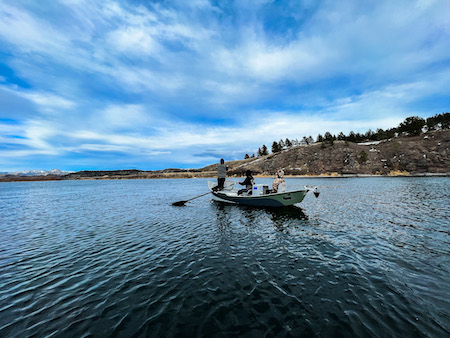 Montana Fishing Guides is running guided ice fishing trips and river trips on the right days. We still have good safe ice right now and I expect it to continue that way for 10 days right now. Maybe longer but that's hard to tell right now. How about river trips? We've been on the Flathead River and the Missouri Rivers for fly fishing trips. The Flathead River is really good on warmer days. If it's 35-40 and sunny then it would be a good call. The Missouri is a really good call if it's above freezing and not windy. We have a great trip for you no matter how you like to fish! Give a call anytime and I'll get you set up on a fun trip! The phone is on 24-7, 406-233-9001