Montana Fly Fishing Hats
What is and what are some classic Montana fly fishing hats? Well, that's a great question that wears many different hats. From the classics, summertime trucker hat to the survival winter hat and everything else in between we're going to talk about Montana fly fishing hats.
Lucky Montana Fly Fishing Hats
It's summertime, the weather is perfect, you're on vacation and you find some cool Montana fly fishing hats. You have walked by it a few times, thought for a few days on it and you can't shake wanting that cool hat you saw. Back to the store, and you buy it. You give the bill the perfect bend, or not for all you flat brimers out there, throw it on your head and you have one of your new Montana fly fishing hats. You'll wear your lucky hat everywhere you go for the next few weeks or maybe you will wear it anytime you go fishing but sure enough that new hat will roll with you for a long time! This is what I would call your standard lucky fishing hat. Lucky fishing hats are prized possessions and should not be overlooked. They are full of good juju, been on countless fishing trips, experienced many fly changes, lots of cursing and have seen lots of fish hit the net. Once you get that lucky fishing hat you must wear it every time you go fishing. Always building and building the fishiness of your hat. Go fish… wear your lucky fishing hat. One day you might get a little lax and think you can get away with a different hat? Well, after a few days of fishing hard, doing all the right things and nothing happens.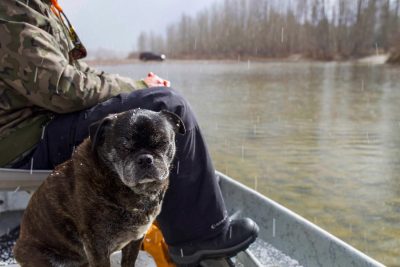 WTF? What was I doing wrong? What could I have done better? Everything is running through your head and boom… You realize that you wore a new hat. A new hat with no sole and no good juju. You just left behind an old friend for a brand new hat that has not proved it's self yet. Good job! No wonder you got skunked for 2 days?
So what are you supposed to do when you get some new Montana fly fishing hats? I like to bring them along on fishing trips. I'll bring it but I won't wear it when I'm fishing. I might not even take it out of my bag for the whole trip. Maybe I'll stuff it in the side compartment of my drift boat for a few weeks. Somehow trying to get some of the lucky hat fishiness to spill over onto it. Keep that cool hat around but don't wear it until you start to feel some magic. Magic? You'll know it when you feel it.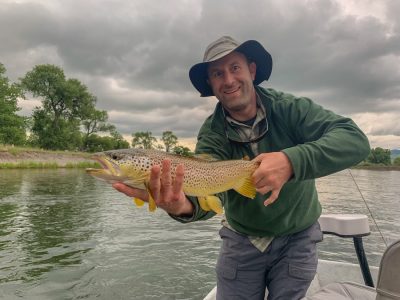 Another classic Montana fly fishing hats is the cowboy-ish wide brim hat. El Humongo! This low gus, wide brim hat works perfectly to keep the sun off your face and the back of your neck. Super hot days on the water are much more enjoyable when you're all covered up and out of the sun. This wide brim hat works perfectly to keep you in the shade and out of the sun. One thing to think about with these large brim hats is wind. The wide brim works great when there is no wind or very little wind but throw in a good steady breeze with heavy gusts you'll wnat to make sure that you have a chin strap on El Humongo. Or your lucky trucker hat and buff to swap out to if it gets really windy.
Are there anymore Montana fly fishing hats to think about? Of course, we still have fall, winter and spring to talk about….
Fall Montana Fishing Hats
Fall is one of my favorite seasons in Montana. The heat of summer is gone, water temps start to drop, new bugs start to hatch and the fish start to feed like winter is coming. Some days are warm and some days are pretty cold, throw in a rainy day and you might want to think about a new hat program. So what is a lucky fishing hat to do? Well, a quick fix is to just throw a beanie over the top of one of your lucky Montana fly fishing hats. Cold morning, throw on the beanie. Cold afternoon, throw on the beanie. The sun comes out, temps warm-up… Take off the beanie. The beanie is a great accessory for any of your Montana Fly fishing hats. Now I could go on and on about beanies but I'll spare you all my weirdness about lucky hats and get straight to the point. It's important to find a beanie that covers your ears when pulled over your hat. Some beanies are too short and won't cover your ears. Also, some beanies are to tight when you pull them over your hat. That tight beanie squeezes your head all day long and you always want to get it off your head. You should always do a test fit when purchasing a beanie. Put it on, pull it over your hat and see how it feels. Does it cover your ears? Is it loose enough that it doesn't squeeze your head? If so, you might be good to go!
Another hat to think about is a solid rain hat. Fall through early winter are pretty rainy and can be pretty cold. Cold, rain and a wet head usually make for a tough day. Why not get yourself a Goretex fishing hat to keep the rain out and your head happy? Simms makes a bomber Goretex hat that is always with me. I have it in a stuff sack buried in the compartment of my drift boat. When it's cold and rainy, I break it out.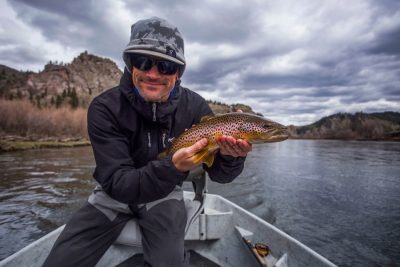 Winter is another season for some new Montana fly fishing hats. Winter hats are pretty much all about survival. Surviving those cold days and not freezing your ears off. The warm head makes for a happy angler. Beanies are the king of the winter. I'll wear my same fall beanie over my normal fishing hat and that's usually plenty of warmth and protection. If it's really cold out and you need a little more then I would suggest going with a wool baseball cap. A wool cap keeps the heat in way better than a mesh back hat. Mesh back hats are great when it's warm because heat can escape but that's not always what you're looking for in the winter. Keep the heat in with a wool baseball cap, then top it with a beanie and you're golden. Still, need more? Throw on a buff… Buff up, wool cap with a beanie and you're ready for a blizzard! Still, need more? Last but not least consider a Mad Bomber Hat. I've had a few days that I wished that I had a Mad Bomber in my collection of Montana fly fishing hats. The sun dips below the horizon and the bottom of the thermometer falls out. All of a sudden it's 17 degrees out and you're frozen. Reach for the Mad Bomber! If it's day time and you need one… Well, it might be a day for tying flies?
I could go on and on about Montana fly fishing hats but I think this about covers it. With all the seasons and conditions that Montana throws at us you can never have too many Montana fly fishing hats!